Interview: Chris Russell
February 3, 2017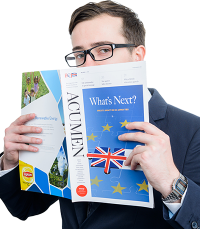 Name: Chris Russell
Hometown: Winchester, England
Job Title: Senior Editor
Favorite hangout in Tokyo: I like music a lot, so I like neighborhoods and districts that have music venues and record shops, such as Shibuya and Shimokitazawa.
What is your background?
I studied philosophy at King's College London. People don't always understand the value of it, but it's all about thinking. It's about logic, reasoning, and—to a certain degree—empathy because it's about considering other people's views; and good philosophy is often about treating other philosophical views or systems with respect.
It also has a strong connection with journalism. My core role at Custom Media is editing BCCJ ACUMEN, the magazine of the British Chamber of Commerce in Japan (BCCJ). I have to look at the logic of an article and what's relevant by considering other viewpoints, seeing the whole picture, and knowing what questions to ask. These are all things relevant to philosophy.
After I graduated, I began my career in London. Then I moved to China in 2011, to Nanjing, and was working as an English teacher in a state school. That was a program through the British Council, similar to the Japan Exchange and Teaching Programme. I was teaching classes of up to 50 students. It was a good way to learn resilience, self-reliance, and how to deal with different environments.
Then I moved to Shanghai, where I was editor of a magazine published by a real estate company. Following that I worked for a luxury magazine writing about culture and current affairs.
In 2013, I moved to a new company and became managing editor of the magazine for the biggest business school in China. I would write articles, about two or three per issue, and edit the magazine. That was really good preparation for what I do now with BCCJ ACUMEN. During this time, I also wrote for other publications.
What do you do at Custom Media?
The bulk of my work is BCCJ ACUMEN, which involves everything in the publishing process. This includes choosing the articles, working with different people, and balancing different considerations, such as adverts and editorial. I also manage our freelance writers, working with them on their articles and planning future ones.
There's a multitude of other editorial projects at Custom Media. This can involve anything from just writing copy for an advert and helping out with social media posts, to writing and editing a brochure. It's quite varied, and encompasses anything and everything, really, that involves words.
What skills do you need for your job?
Tying this back in with philosophy, analytical skills are vital, particularly as a journalist. Having people skills is key to interviewing, and being out and about and making connections might eventually lead to content for the magazine.
I go to a variety of BCCJ events, both to cover them for the magazine and to meet people who are part of the chamber or work with the chamber, because BCCJ ACUMEN represents the chamber as well. Also, I have to have a sense of what's needed, what's appropriate.
Lastly, attention to detail is another crucial part of the publishing process.
What makes good copy for an advertorial?
You're doing this advertorial because you want to promote something and you want to get a message across, but I think you've also got to be aware of your audience.
If it's too promotional, or doesn't have information that the reader can then go away and do something with or think about, it is not going to engage people. It needs to be something they can retain. There is a balance between communicating your message and actually having something that has value for readers. Sometimes there is too much focus on the sales pitch and not enough on making it fit the type of content you're doing.
What makes good copy for a normal article?
There has to be some interesting takeaway. It's important to give people facts or insights they don't have already.
As a writer or editor, you have to push yourself to ferret out a little more information or another quote. Or you have to bring together bits of information and make a connection between them that maybe people haven't made before. It's just trying to push beyond a conventional understanding and shine a bit more light on a subject.
It's also sometimes about interrogating people's assumptions, because there are a lot of things we take for granted. I think nuance is key, but, at the same time, you have to be wary of not ending up with a boring article. It's about finding something that's enlightening but also interesting for people.
What inspired you to work in editorial?
I just always liked words, really. Everything I studied was always all about writing. Philosophy is about communication and getting your ideas across and it just felt like a natural thing to do.