Interview: Kiyoko Morita
July 26, 2016

Name: Kiyoko Morita
Hometown: Chiba Prefecture
Job title: Office Manager and Media Coordinator
Favorite hangout in Tokyo/Japan: The Marunouchi area for shopping and strolling around.
What is your background?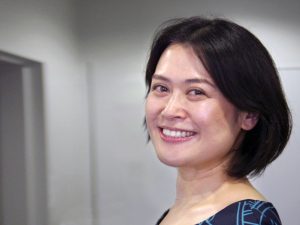 My major at college was international studies. After graduation, I got my first job as a secretary at a US Army base. But I was solely using my native language skills so, seeking an international experience, I returned to Chiba Prefecture, where I worked in a number of administration roles.
In 2007, I joined the Elliott Group of Ebara Corporation, a compressor manufacturing company. This move marked the start of my experience working in an international environment. Although my colleagues were Japanese, the company's clients were non-Japanese. I really enjoyed my work, which involved arranging the dispatch of engineers to projects overseas.
I moved to my first international firm, ExxonMobil, in 2011. All the staff were from different countries, which created a really interesting and enjoyable workplace. After four years, it was announced that the project office was to move to Singapore so I started looking for another job in Tokyo.
Although I have no experience of living abroad, I really enjoy working in an international environment so I chose to work at Custom Media.
What do you do at CM?
I have two main areas of work.
As office manager I do a wide range of tasks—all of which are designed to make the CM operation smooth. I provide back office support in the areas of HR and finance as well as in day-to-day duties such as maintaining office supplies, arranging meetings, and managing enquiries.
As media coordinator, I coordinate the publishing of our two magazines with printers and distributors. I also compile the information and photos featured on the arts pages of BCCJ ACUMEN.
What skills do you use at work?
I would say that I'm a generalist rather than a specialist. Through my experience in the administration field, I have become good at multi-tasking. I don't like to be distracted but I think I'm good at doing many different pieces of work at the same time.
A business cannot operate without back office support. My former co-workers say that I was like glue keeping the company's teams together. I'm good at connecting people and helping support teamwork.
How can Japanese companies succeed in international business?
First, it is important to study English. Japanese people are often reluctant to speak English, perhaps saying, "I'm sorry I don't speak English very well". But I think there is no need to speak English perfectly. People in other countries, whose native language is not English, don't care about a poor accent, for example. We need to try; we are too humble sometimes. Assertive communication is important.
Second, companies need to learn different global customs to better understand people from across the world.