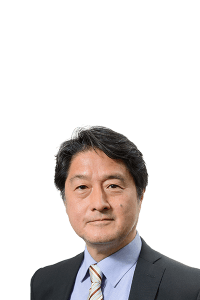 Hometown
Kanagawa Prefecture
Job title
Business Development Director
Favorite hangout in Tokyo/Japan
izakaya (Japanese taverns) in Shinbashi—I like the vibration there on a Friday night.
What is your background?
I was in TV for quite a long time—it was a music TV station called MTV Europe HQ in London. I joined them in 1992 and worked with them for eight years. In 2000, I went to Singapore and stayed there for two years, working for MTV Asia at its headquarters there. Then I moved to MTV China, in Hong Kong, for three years—and I quite enjoyed it.
After that I came to Japan because MTV was opening three global offices in New York, London and Tokyo. The Japanese office was working with companies such as Toyota, Sony and Nintendo, which were targeting young people. I did that work for one or two years.
What do you do at CM?
It's a consulting/sales/marketing position. In terms of straightforward sales, it is concerned with magazines, and my sort of specialty is prefectures and ministries of Japanese government. After you've been away from Japan for a long time—like me—when you come back you discover the place in a certain way, and you find you're not so knowledgeable about it. That happened to me so now I'm interested in introducing the beauty of local Japan to an overseas marketplace and people in Japan who stay just three or four years. Other than that, my focus is probably Japanese companies, to help them do the right marketing activities overseas.
What skills do you use at work?
I use my knowledge of foreign markets as well as of marketing and advertising in those places.
Based on your experience, what are your insights on doing business in Japan, or for Japanese companies wanting to expand overseas?
The population is shrinking and the domestic market is shrinking, meaning young Japanese don't have a big desire to buy things. Generally, they do not go abroad and are not interested in buying cars anymore—actually they do not even have driving licenses.
The only way for Japanese companies to grow from now on is to look outwards: they need to search for overseas markets. In order to do that, first of all they have to have an English website, an English brochure etc., and I'm helping with that in addition to advertising—this is my business development work. I know quite a bit about overseas markets and how consumers and companies in other countries feel and act, and what the influence of the media is there, so I think I can help with that as well.
Can you share more about your book, On the Road in Europe, and how you came to write it?
When I was living in the UK, I had a lot of business trips to Paris, Munich etc. I loved to take trips as I encountered many interesting things and interesting people on the way. I wrote about it in a community magazine in the UK for a Japanese audience. That was syndicated into several newspapers in Europe.
From a business point of view, it was good to have that column because I had a business reputation in Amsterdam, Munich, Frankfurt and Zurich. I would usually meet with the country managers of Toyota or Sony in these countries and, when they saw my name card, they recognized my name: "Oh, you were writing that column, that's funny."
I then decided to make a compilation of that column and send it to a publisher in Japan, which made it into On the Road in Europe.