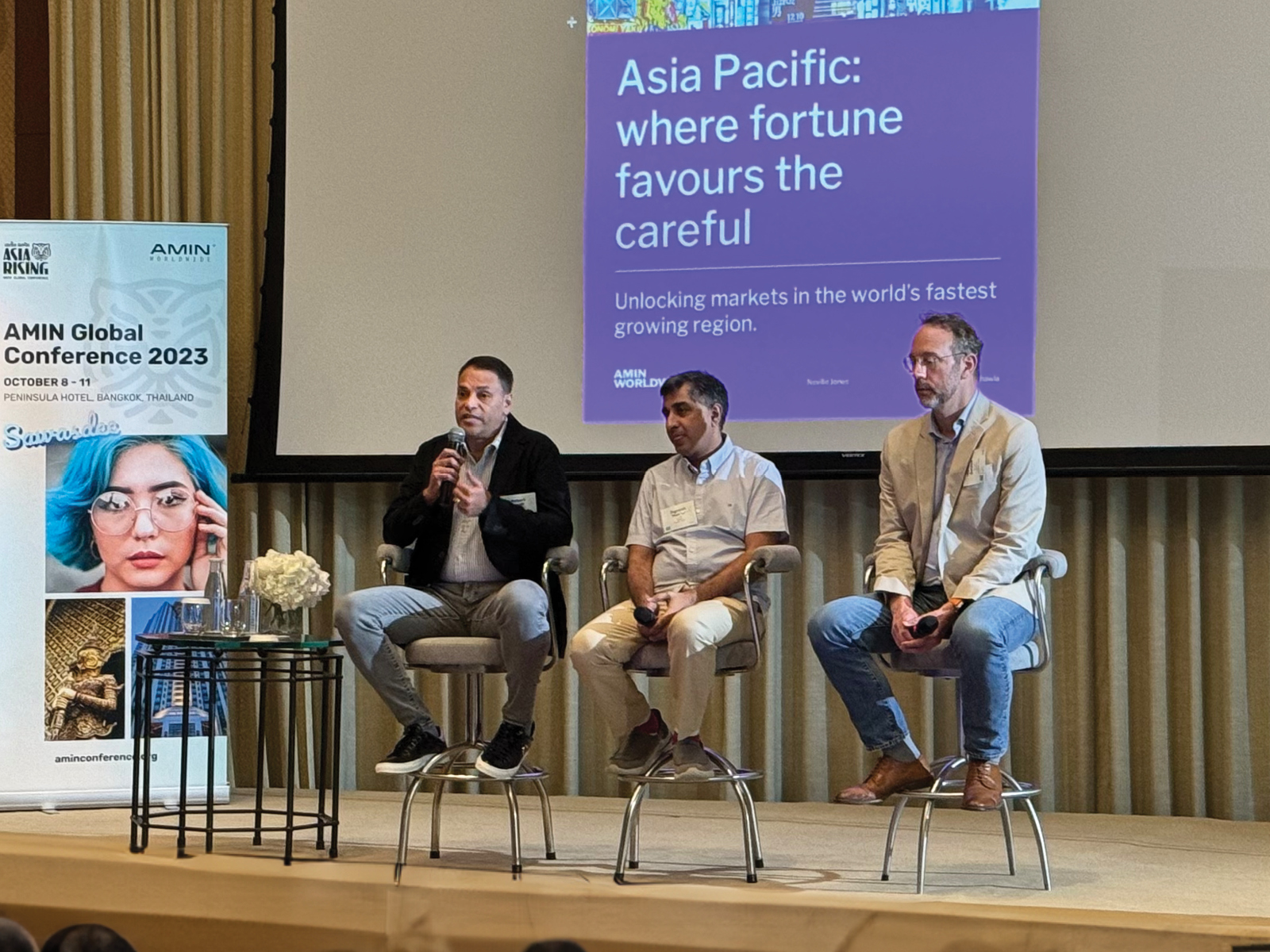 AMIN Conference: Sharing Global Marketing Insights and Showing APAC as a Dynamic and Diverse Region
Custom Media CEO Robert Heldt represented Japan at the annual Advertising & Marketing Independent Network (AMIN) Worldwide Global Conference in October 2023, held for the first time in the dynamic city of Bangkok, Thailand.
The highlight of the event was the launch of a widely anticipated AMIN white paper that was proposed by Robert and commissioned by AMIN's APAC board. "Asia-Pacific: Where Fortune Favors the Careful" provided a thorough overview of the critical diversity in the APAC region, the cultural and structural features in its markets, and a playbook on how best to orient toward the market.
Authored by former Mercer and KPMG Marketing Head Manisha Chawla and former Accenture Partner and DPR&Co Director Neville Jones, the document revealed how Asia will contribute about 70 percent of global growth this year.
Manisha Chawla, who shared the white paper's findings with the attending delegates, said: "These emerging markets could grow twice as fast as advanced economies, with China, India, and Indonesia leading the way. By 2050, it is estimated that Asia's emerging markets will dominate the top 10 economies in terms of GDP and purchasing power parity. China, Japan, and India are already in the top five, but it is crucial to note that each market has its own challenges and opportunities."
Indeed, by taking a leap into the future of marketing in the APAC region, the AMIN conference epitomized the rise of Asia as a global engine of growth and opportunity.
Key Speakers and Takeaways
During the white paper panel discussion, Robert emphasized three key points: First is that every country in the region is unique, so it's important not to generalize entry strategies because they worked in another Asian country. Next is that culture plays an important role in every country, and every country in APAC has strong traditional and rich cultural history. Therefore, it's important to take the time to understand these cultural nuances and consumer behavior in APAC markets by carefully researching their targeted audiences, whether B2C or B2B, and making informed decisions based on facts and data. Finally, localization is not a mere machine translation job—it is the art of meticulously transcreating content by adapting it to meet cultural norms and beliefs while interpreting consumer behavior.
Robert also discussed the pitfalls and rewards of bidding for government contracts in Tokyo through the complex RFP process, and fielded several questions on this popular topic, showing the high interest among delegates in post-Covid Japan.
Meanwhile, three main stage contributors represented all three AMIN regions as global leaders in their field.
From his vast Japanese network, Robert introduced Motoki Tani, the co-founder and board director of Animoca Brands (ABKK) Japan. His mission is to bring Japanese IP to the world and to usher Web3 into Japan. ABKK was founded with the support and investment from major publishers and financial institutions in Japan to help the country with its national growth strategy for Web3.
Richard Shotton is a globally relevant behavioral scientist who has worked with agencies including Mother London, Lucky Generals, Publicis, VCCP and XenoPsi. Leveraging neuro-marketing as a key to driving competitive advantage and growth, Richard is one of the world's leading experts in this rapidly evolving science. Richard's well-received keynote address was followed by a detailed working session on how to utilize behavioral science to win pitches, increase fees, sell in work, and prove the effectiveness of ideas as well as providing stimulus to come up with new ideas that work—faster and less expensively.
Samyutha Reddy, head of enterprise marketing at Jasper AI, meanwhile, delivered a keynote address on the challenges and opportunities for agencies offered by generative AI, and how to make use of Jasper's most acclaimed AI content customization products. Leading a team of talented marketers, Samyutha is uniquely placed to help us understand how generative AI can revolutionize enterprises and supercharge teams. Under her leadership, Jasper has become the industry's first generative AI content platform for enterprises and teams—and is transforming the way businesses think about content creation.