Making an impact
June 23, 2016
By Michael Pfeffer
Senior Graphic Designer
Today, the words tablet, notebook, and pad have lost their association with paper. In response to the shift towards digital, the printing industry has made rapid advances, with machines now able to offer greater color ranges and faster speeds than before.
In the wake of these advancements, letterpress printing—the technique of relief printing using a printing press—is often forgotten.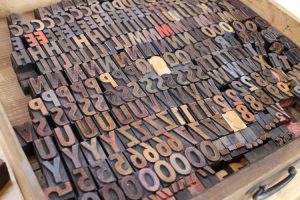 Until the second half of the 20th century, letterpress was the standard in printing. Over time, it has been replaced with more efficient and visually crisper offset printing technology, followed by digital printing.
Though letterpress lost its mainstream position, it survives in a niche market, being used largely to make greeting cards. Given the distinctive and charming effects that letterpress printing creates, however, it is not living up to its potential.
I recently visited my friends Darren and Eriko at Tokyo Pear, a company in Gyoda City, Saitama Prefecture, that uses a classic Heidelberg letterpress to make cards, invitations, and custom paper items. Darren, an American who has lived in Japan since 2008, operates the press, while Eriko creates the designs.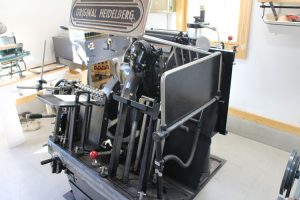 Darren explained the intricacies of operating the letterpress, from setup to operation. It is a very hands-on process, which requires much skill and expertise—and a little trial and error.
One distinctive trait is the impression left on them by the letterpress machine. The products have a charmingly handcrafted feel. In Japan, therefore, where the exchange of business cards is an almost daily ritual, a custom-designed card printed on letterpress would be very marketable.
Posters printed by letterpress are also outstanding—and incredibly unique. US company Hatch Show Print in Memphis, Tennessee, designs and prints posters for the classic Nashville stage show Grand Ole Opry using letterpress. The posters in the entryway to the building that hosts the show have the same feel as those in an art gallery.
While the latest technologies are often the focus of people's interest, it's important to consider different ways to stand out and differentiate from the competition. In the case of printing, letterpress may be one solution.