Interview: Brian Susantio
Name:
Brian Susantio
Hometown:
Jakarta, Indonesia
Job Title:
CTO
Favorite Hangout:
Ikebukuro. I like trying different restaurants in the area.
What is your background?
When I was young, I was interested in creating something online that everyone could access without the boundaries of their computer. When you write software, it is for an operating system such as Windows, macOS, iOS, or Android. But with a website, anyone can access it as long as they have a browser. I started doing that in high school, using Microsoft FrontPage. This was an application like Microsoft Word that could publish content as a website. You just added backgrounds and text.
After FrontPage, I started learning Adobe Flash; but I stopped because it was heavy and doesn't work on most mobile devices. So, I turned to dynamic web pages, which led me to coding for websites. First, I tried ASP and JSP. Then, I tried PHP, and ended up liking it a lot. I'm still using PHP at Custom Media. But a website itself requires an understanding of the design and the front end—what people see—because PHP is not what people see; it works behind that.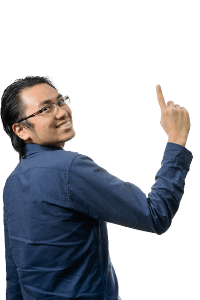 What do you do at Custom Media?
Ultimately I am a website creator, mainly working on the technologies that drive website functionality. I keep my design hat on at all times to find the best solutions for our clients and create an optimal user experience.
I create estimates and sitemaps for new websites, and analyze how we can improve a client's existing website in terms of technology, optimization, and user experience.
The next step is design, so I give creative input and direction to our design team. Then I begin working on the HTML and CSS part, which is the front end, followed by the back end—that's the PHP part. Most of the projects use WordPress, but some require custom CSS or PHP-based coding.
When that is done, I help with quality assurance, where the whole team is involved in giving feedback.
I'm also the creator of our innovative internal system, which makes work smoother and more efficient for our team.
What skills do you need for your job?
Googling! As long as you can figure out the keyword and which answer works for your problem, you just need to ask: Is that a problem? Is there something I need to know? I need to use Google to make sure that what I find is exactly the solution to the trouble I'm facing.
What inspired you to work in this field?
I think it comes back to my background, that I like making things that are as accessible as possible. That's why I chose websites, and I also tried working on mobile applications.
What has been your favorite project so far at Custom Media?
It has to be my first project: the website for the McGill MBA Japan Program. I had stopped working for a few months and was just consulting. I wasn't coding. McGill was the first project that I really coded by myself after the break. It was refreshing, and it really felt like I was working again. Plus, I learned a few new things while doing the project.