Interview: Devin Surya Putra
Hometown:
Jakarta, Indonesia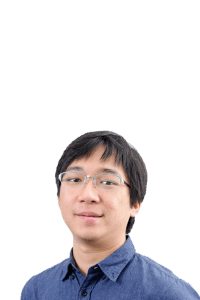 Job Title:
Web Designer
Favorite hangout in Japan:
Ikebukuro. It's crowded, but it's totally different from somewhere like Shinjuku. It feels more homey, and there are a lot of places to hang out.
What do you do at Custom Media?
Mainly web design, but I also do programming. When it comes to web design, I always start by finding out the client's preferences, wants, and needs. The most important thing is what the client needs. After that, I brainstorm. My brainstorming involves comparing my vision of the product with what the client needs and with competitors. All my designs are created with the competitor in mind. If I don't design better than them, then that means my work isn't the best it can be.
What inspired you to work in design?
I did a bachelor's degree in computer science, but since high school I have been doing design and web design. I also used to paint, but not any more. When I went to university, I already knew that I wanted to be a web designer, even though I studied computer science. I chose computer science because, by combining the mindset of a programmer with that of a designer, I could be the bridge between the two disciplines.
Tell us about your background?
I grew up in Jakarta, Indonesia. This is my first time going abroad for professional experience. I used to play basketball often, but nowadays I prefer books. I like all types of books and will read anything, because I know that I will learn more quickly from other people's experiences. I also like computer gaming.
What skills do you need for your job?
The first thing is to be able to work fast to meet deadlines and not fall behind. My job also means learning new things all the time, and not just using the same tools and design inspiration over and over. This is a mindset I developed from studying computer science. Technology is always changing, which is why I think everything related to digital programming and design moves quickly.
Creativity is also a must, but creativity is not as important these days because—in design terms—we have already moved into flat design, where everything looks the same; so there is not much to be creative with. In 2010, we still used skeuomorphism—the simulation of physical objects in user interfaces. For example, you could make a website look like cardboard by incorporating patterns like wood and other real materials into the digital design. Now, in flat design, we can only play with color—so we are not as creative.
What are the most important considerations when designing a website?
The user always comes first. You have to imagine yourself as the user and how you feel when you operate and see the website. That's why the design is called user design.
What is your favorite design project that you've worked on since joining Custom Media?
I like working on the websites of not-for-profit organizations because these groups help people, but few people help them. I want to help them because I don't think that their limited funds should be used for something like a website.