Custom Media investor wins industry Hall of Fame award
The global recruitment industry placed a Japanese businessman on its coveted Hall of Fame for being the first individual to take two local recruitment companies to the Tokyo Stock Exchange (TSE), in a formal awards ceremony at Tokyo American Club on Friday.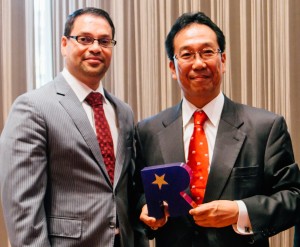 Masashi Kamimura, Custom Media partner and director of Corporate Affairs and Business Development, accepted the recruitment industry's highest accolade for his "unrivalled career in the recruitment industry … a real pioneer of staffing who has made an outstanding contribution to our sector … an industry icon."
With 17 award categories, the annual Recruitment International Asia Awards was presented by London-based Director David Head, a 30-year industry veteran.
Dozens of industry leaders arrived from Hong Kong, Singapore, the US and Europe for the Friday afternoon ceremony and several big names celebrated getting awards such as Randstad, Robert Walters and Spring Professional, as well as some smaller operators and startups.
Custom Media President Robert Heldt said: "We are very privileged to have Mr. Kamimura as our latest investor, partner and advisor. We have very exciting plans and we look forward to a bright future as our diverse team of creatives develops to serve our increasing portfolio of clients even better."
Kamimura told guests: "It is obvious that those IPOs have not been accomplished by only me, but by the hard work of all staff members and support by clients and candidates.
Therefore, I would like to my heartful thanks to all of them."
He added: "I want to emphasize that both profit and social contributions are vital to success in business. I am now looking forward to developing Custom Media, which is already a very well known company among the foreign community here for delivering vital information to businesses. As a strong and wide bridge between Japan and overseas, Custom Media will take a very important role in Japan in the future."
Kamimura, aged 53, started his career in 1985 at Recruit, Co., Ltd., which sent him to the US for seven years to publish a jobs magazine for Japanese students there.
Returning to Japan in 1996 as JAC Recruitment's Osaka branch manager, he became managing director in 2003 and grew sales and profits by a staggering 40 times before taking the company to a high-profile IPO in 2006.
His second IPO, on the TSE "Mothers" section, came in December 2014 after he took on a crippling two-year deficit at venture recruitment company I am Inc. in 2008 to lead a merger with Interworks in 2012.
Aichi Prefecture-born Kamimura graduated with a BA in English literature from Osaka University in 1985.
Custom Media is a mid-sized print and digital design, media and marketing agency based in Azabudai, Tokyo that publishes The Journal for the American Chamber of Commerce in Japan, and BCCJ ACUMEN, for the British Chamber of Commerce in Japan. Custom Media also produces BIJ.TV, the first and only online bilingual video channel on successful Business in Japan.