Custom Media Wins Best CSR Award

LONDON, UK, 21 Sept 2020—Tokyo-based Custom Media has been named overall winner of the Best Corporate Social Responsibility category at the 2020 Best Business Awards, for its Connect initiative to help local businesses and charities worldwide affected by Covid-19.
The Best Business Awards has a large and diverse panel of independent expert judges who select winners according to strict criteria for each category, industry and sector. Judges include the multi-award winning entrepreneur and political reformer Lord Rami Ranger CBE and corporate, political and institutional leader Sir Michael Lockett KCVO, who spearheaded campaigns for the London and Rio Olympic and Paralympic Games.
Connect is a free dedicated digital shared marketplace for SMEs, NPOs, volunteers, entrepreneurs, independent businesses and other organisations in Japan. In early September, it reached 100 offers and positions since launching in March 2020: https://connect.custom-media.com
The judges said in a statement: "With many people's livelihoods lost because of the global pandemic, Custom Media in Japan came to the rescue with the launch of Connect, a free digital marketing platform that offers companies, charities and individuals a unique chance to promote themselves to new audiences. Connect has put businesses and individuals in touch, created a total reach of 5,000 plus on social media, helped raise funds for charities, and generated dozens of business leads. This is a brilliant effort by Custom Media that has given Japan a real boost in these challenging and unprecedented times."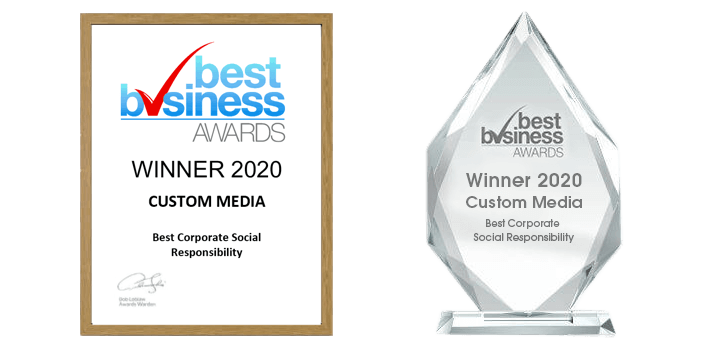 Custom Media CEO and Connect creator Robert Heldt said: "It is an honour to win this prestigious global award. Dedication to volunteerism, charity and community is at the heart of what we do at Custom Media. I am very proud of our team who, despite their personal challenges brought on by COVID-19, gave their time and effort to quickly launch Connect to support others and continue to do so."
Custom Media Publisher Simon Farrell added: "Sourcing worthy causes and attracting keen volunteers to Connect was as simple as contacting friends in our wide and diverse NPO network. Word soon spread and offers poured in, which shows the spirit of community and volunteerism."
Founded in 2008, Custom Media publishes printed and online magazines for the American, British and Canadian chambers of commerce in Japan. It also produces In Japan TV, which features entertaining and informative videos for a global audience about Japanese lifestyle and business such as culture, food, entertainment, sports and much more.
As a multiple award-winning creative digital media and market-entry agency, Custom Media specialises in innovative integrated marketing solutions, websites, apps, videos, podcasts, social media strategy, and other key communications.
The Best Business Awards is one of the UK's highest accolades, and winning recognises the quality of successful nominees. The Awards attract a wide range of entries from all sectors—including large global corporations, the public sector, dynamic entrepreneurs and innovative SMEs.
The Best Business Awards is administered by AwardsIntelligence, the world's leading provider of business awards, which offers information and support to progressive, global individuals and organisations.
Note for editors:
For more details or interviews, contact Kate Morgan-Tolworthy:
 kate@awardsintelligence.co.uk
www.bestbusinessawards.co.uk/index.asp
@awardsintel
01444-230130
Custom Media
https://custom-media.com
https://connect.custom-media.com
inquiries@custom-media.com
03-4540-7730