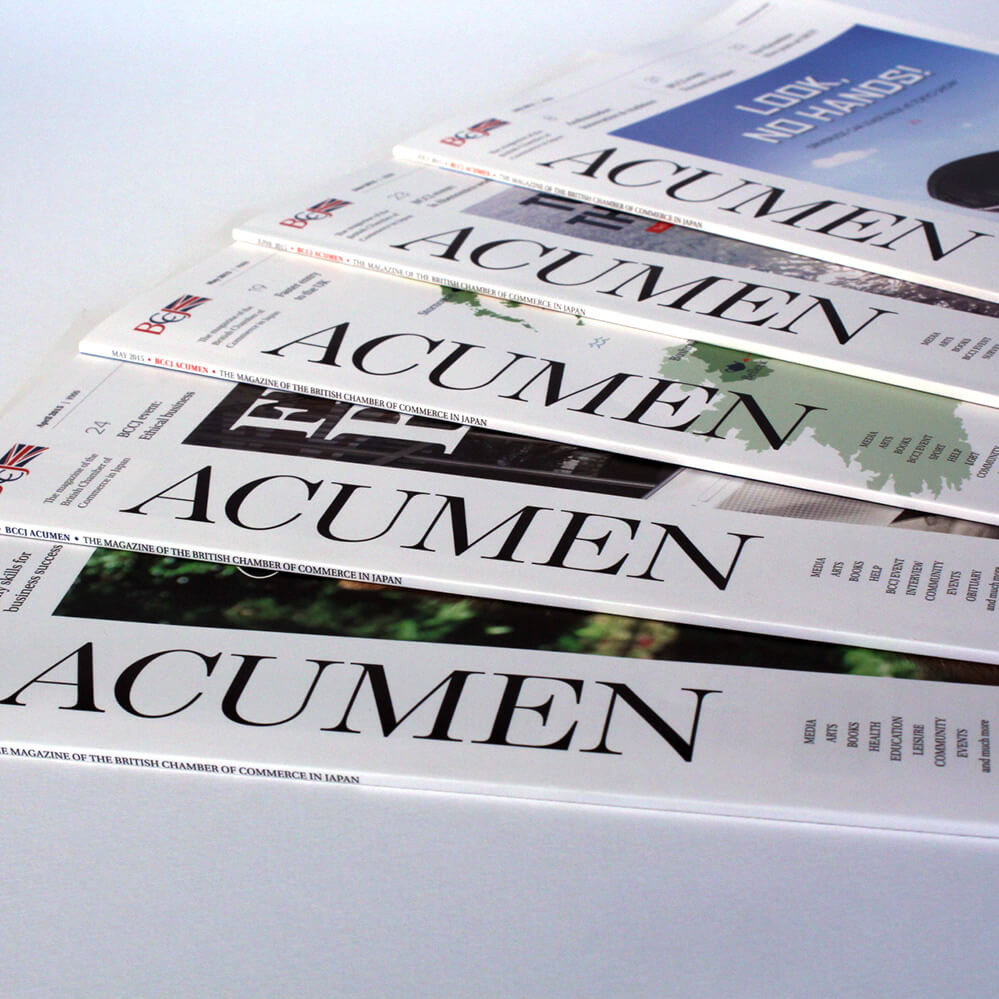 British Chamber of Commerce in Japan
Media partner, publisher, marketing, event management and promotion for the BCCJ
The British Chamber of Commerce in Japan (BCCJ) is a membership organization made up of more than 900 members who represent more than 200 different companies. Its mission is to deepen business ties between the UK and Japan, and encourage new British businesses in the Japanese market and Japanese investment in the UK.
Custom Media is a Media Partner of the BCCJ, founding publisher of its monthly BCCJ ACUMEN magazine, and has been a service provider for the annual black tie gala BCCJ British Business Awards (BBA) for several years.
Flagship publication
Custom Media launched BCCJ ACUMEN in 2009, and it quickly became a key communication tool of the BCCJ and the UK business and lifestyle community in Japan. It is now a highly respected magazine and source of information for UK expats and Anglophiles in Japan. With a monthly readership of about 60,000, it is distributed to all members of the BCCJ and sent with the Financial Times to select subscribers in central Tokyo. It can also be found at airport lounges in Haneda, Narita, Hong Kong, and London Heathrow.
Every month, BCCJ ACUMEN offers an appealing and diverse mix of features, opinions, profiles and interviews that cover everything from business and history to music and travel, and online readers can view the articles on a highly responsive website that looks and works great on desktop and mobile.
The BCCJ team was delighted to have gained media coverage of our 10th anniversary British Business Awards gala in the Yomiuri (Japan News) and in The Japan Times. As well as highlighting the record-breaking event, we were so pleased to let our winning firms know that they had received exposure in the national press.
From reports to videos
In addition to BCCJ ACUMEN, our work for the BCCJ has included conceptual display adverts, marketing material, reports, and successful project management, all done successfully on time and within budget.
We have also created a wide range of videos for the BBA, from introductory pre-event ones played on the night for 300–400 guests that celebrate British innovation in a cool and classic style, to cinematic and emotion-filled post-event shoots that capture the drama of the moment and the pride of the winners, judges, organizers and guests.