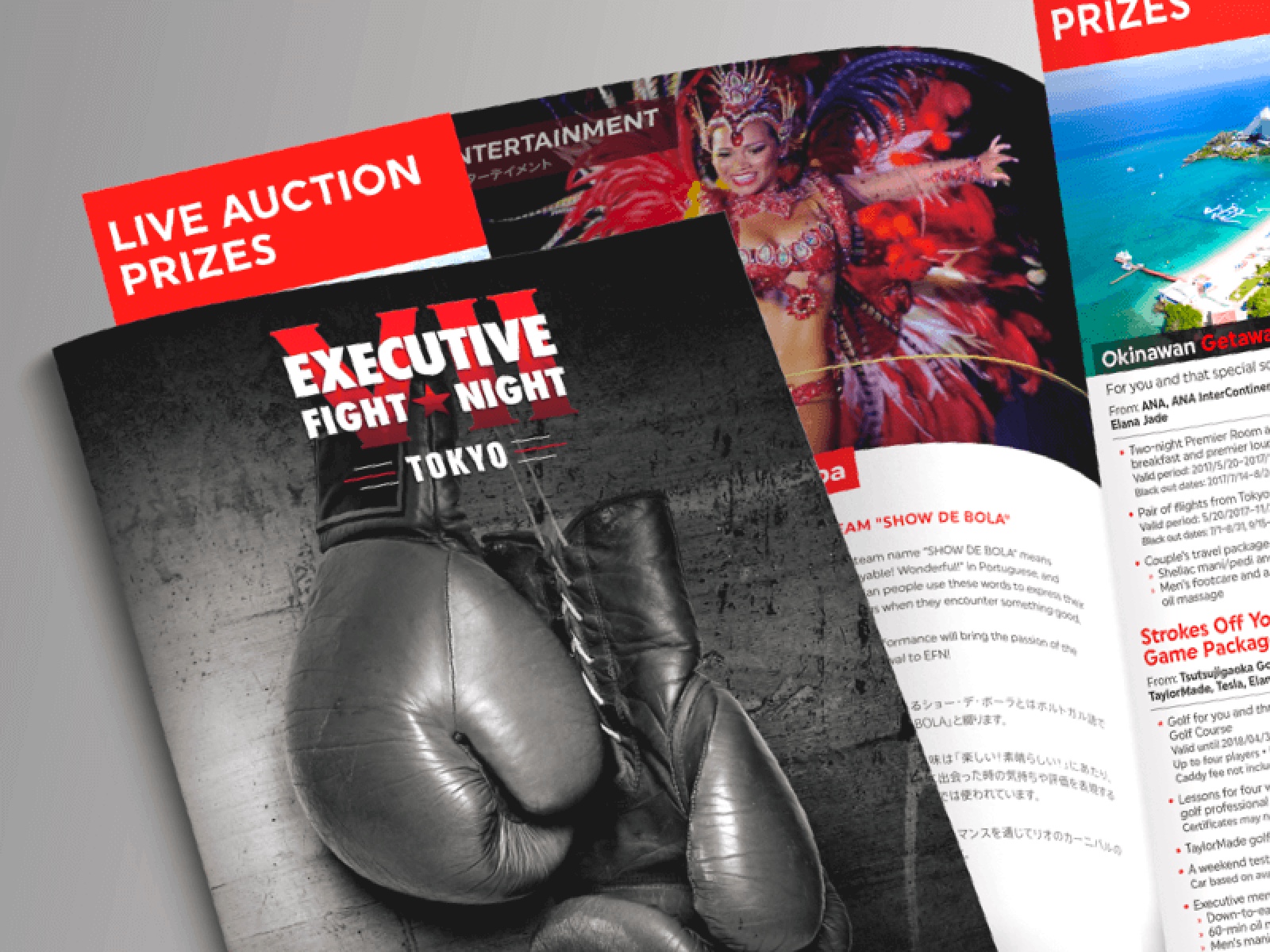 Executive Fight Night VII
Custom Media was an official production partner for Executive Fight Night VII (EFN), a charity event for the innovative Shine On! Kids Facility Dog Program
EFN is an annual event, and many guests attend every year. Thus, it was important to maintain and exceed expectations. In the lead-up, we handled the event's branding, communications, and marketing. On the night, we welcomed, registered, and assisted guests.
Campaign Objective
Custom Media was an official production partner for Executive Fight Night VII (EFN), a charity event that raised awareness of and funds for the innovative Shine On! Kids Facility Dogs Program, which changes how children approach medical treatment and therapy—and improves outcomes—through Japan's first, full-time Animal Assisted Therapy program at a children's hospital.
The elements that Custom Media created came together perfectly. The visuals and technical aspects definitely added to the evening's success, and no doubt helped us bring in more than ¥1.4 million in donations on the night.
Strategy
We needed to design, develop, and execute various elements to a high standard under severe time constraints. Visuals needed to focus equally on the fighter and the charity. Also needed were a website that could attract as many sponsors as possible and an easy-to-use app through which guests could bet and donate on the night.
Elements / Deliverables
Print
Marketing Collateral
Using the website as the starting point, we crafted a wide range of impactful print materials that carried forward the same style and provided a polished, unified image for EFN.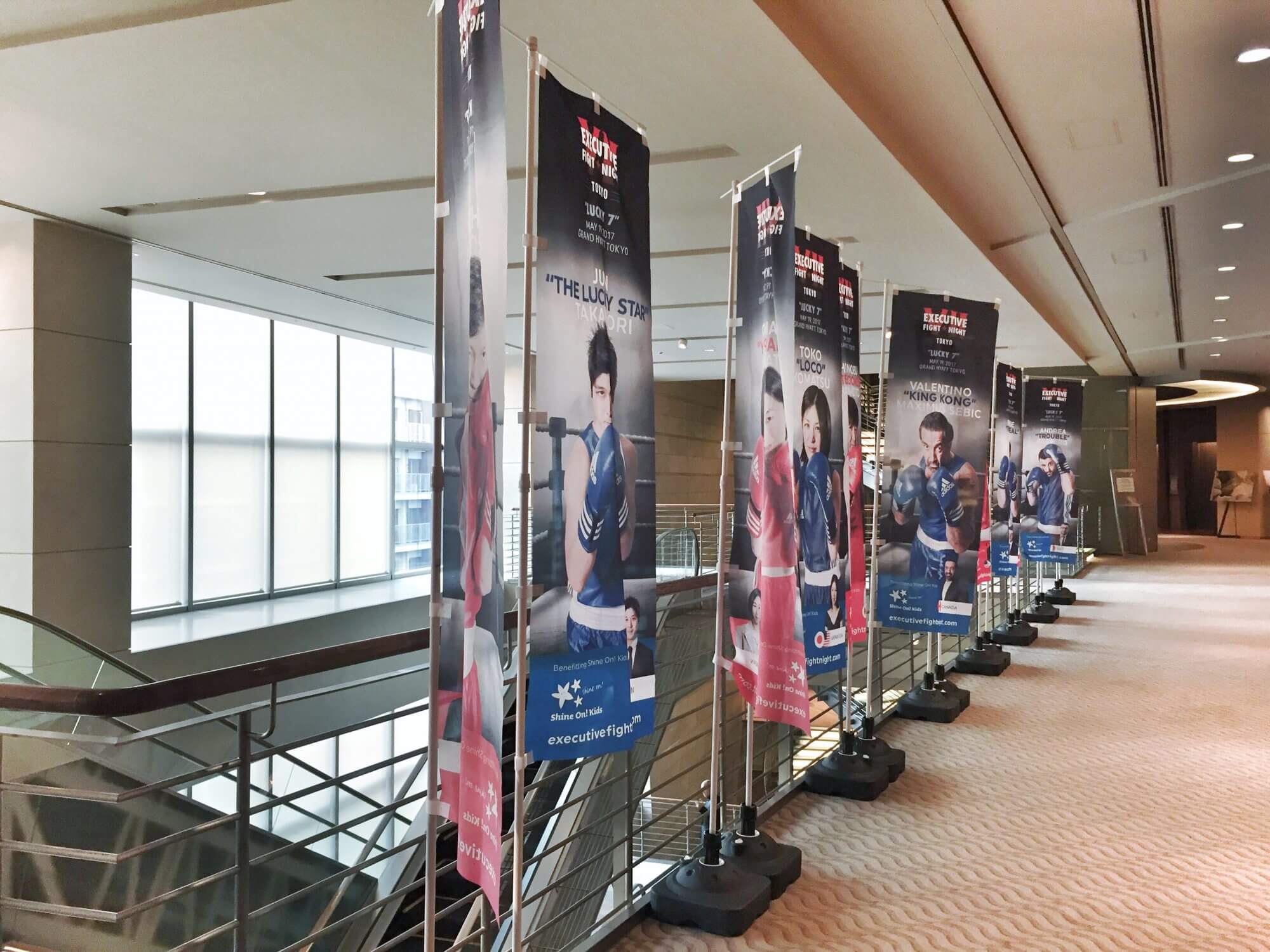 Fighter Flags
Using a design similar to last year's, we made each fighter's name more prominent and added their home country. The two base colors—blue and red—were also used on the website and in social media. The striking and informative flags were on display in the lobby, providing guests a brief introduction to the fighters before the bouts.
Print Program
We created a bilingual program that used the same colors as other materials to strengthen the brand, and put the fighters front and center with bold photos and easy-to-read names, information, and messages to the children. Sponsor logos were also given more prominent placement than in previous years.
Prize Insert
To give EFN maximum flexibility to accommodate all companies who want to sponsor the fights and help the children, an insert approach was taken to minimize print time and maximize the opportunity to contribute.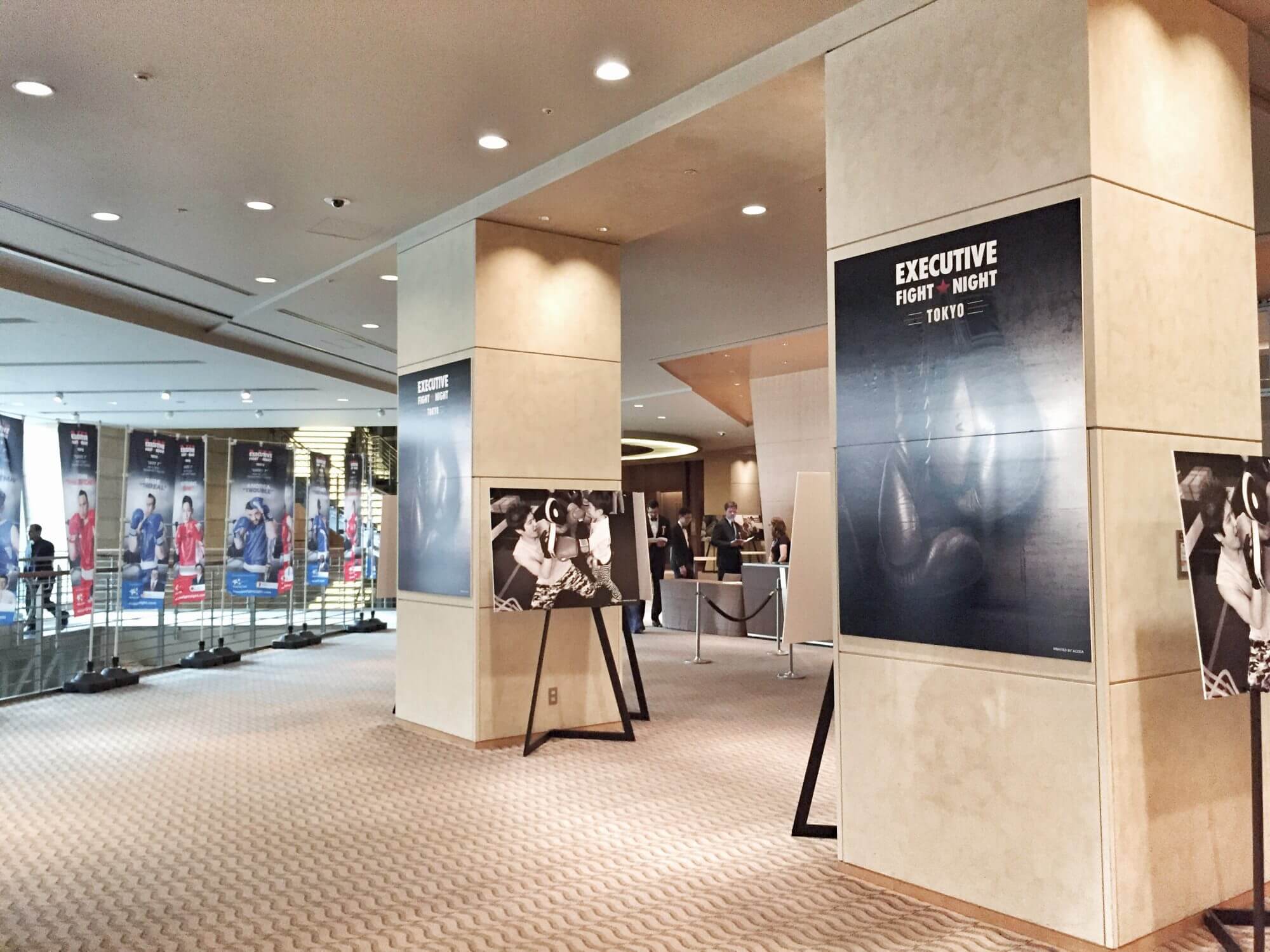 Posters for Reception
These posters helped tie together the charity and the fighters' journeys to create a story by using a wide selection of black-and-white images featuring the fighters, children, and dogs to create an immersive experience in the reception area.
Magazine Advertisements
These themes and styles were also used for promotion in the magazines of the British Chamber of Commerce in Japan and the American Chamber of Commerce in Japan—BCCJ ACUMEN and The ACCJ Journal—to put the EFN message in front of those most able to make a difference in the lives of these children.
Online
Website
Rebranded the website, including a new logo created by our web team
Made the website more dynamic to exude a feeling of luxury, strength, and adrenaline
The previous website was not mobile-friendly and, as most users access it via iPhone, optimizing for that platform was key
All high-priority changes, such as sponsor updates, were done within 30 minutes of a request
Check-in App
Used to check in guests at reception
Created an internal messaging system so that the web team could respond from their station if there were issues
Designed an app-style website that did not require installation
Betting Game
An app was used the previous year, but guests needed to download it, it required manual refreshing, the payment system was complicated, and there was potential for the app to go down
Instead of an actual app, the Custom Media web team created an easy-to-use website that functioned like an app but did not need to be installed on a phone
Because this was a website—not an app—it could be quickly updated in real time with minimal effort
Completed in just two weeks, the skeleton was made in five days, design took three days, and finishing touches were applied over two
The web team opened and closed all the betting on the night
Results
All deliverables were completed on schedule, and the live test of the betting game was highly successful. Many guests took part and generated more than ¥2 million for the charity. On the day of the event, the website handled more than 500 site visits and we successfully checked in 400 people in 45 minutes.