Interview: Ximena Criales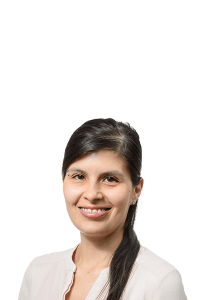 Hometown
Mexico City
Job title
Graphic Designer
What words do you overuse at work
Sorry
Recommended industry reading
The Art of Looking Sideways, by Alan Fletcher
Favorite hangout in Tokyo/Japan
Yoyogi Park or the Imperial Palace East Gardens.
What is your background?
I went to university in Mexico. I was initially interested in industrial design because I had an interest in large objects and projects, and wanted to create things for spaces.
But when I sat my college entrance exam, I realized that I would have more job opportunities in graphic design. I therefore read graphic design—majoring in interior design—for six years, including one in Turin, Italy, on a student exchange program.
What inspired you to become a designer?
I would say my family. My mother is very creative, and has always liked to paint. She always helped my four siblings and me with our art homework, thereby encouraging my interest in design from an early age.
My older brother, who is an architect, was also an early influence. Whenever he drew images at home, I watched closely and wanted to be like him.
What is good design?
That's a hard question because what it is differs from person to person. For me, a design is good if it is successful in communicating its meaning to a viewer, or if it functions as intended.
If it has a sense of harmony and balance that catches the eye, making you take a second look, then that, too, is good design.
What designs have impressed you?
I love what Apple does: the simplicity of their designs, not just graphically but also in terms of the user experience. When you touch an Apple product, it feels good.
When I read the biography of co-founder Steve Jobs, which describes him as a perfectionist, I understood why the company is doing so well. It inspired me to look closely at their products, including the way they are put together. Their products and his philosophy are an inspiration for how I wish to work.
What is important for a successful design project?
Three things, really: first is that the client knows the outcomes they desire from a project. Second is that they trust us to deliver the best outcome for them. And third is that they provide constructive and timely feedback.
A client, for example, may have an idea that, as professionals with expertise in the domestic and international market, we think would not lead to the best outcome.
In such a situation, we hope they can trust us to use our knowledge and experience to create something that would appeal to their target audience, be that in Japan or elsewhere.
We appreciate constructive feedback from clients. It helps us sharpen our designs and moves the project forward to a satisfactory outcome.
What is your favorite project at Custom Media?
It continues to be creating designs for The Journal. It is an illustrious business magazine, but with a lot of scope for creativity.
I create infographics and imaginative layouts for editorial and sponsored content, for example, allowing me the opportunity to express myself. And from the feedback I've received, I believe our readers are really enjoying the magazine.
Who or what inspires you?
I get a lot of inspiration from my immediate colleagues: Paul, our studio manager, and Michael, our senior graphic designer. In addition to the great feedback they give me, I watch their work closely, and this has helped me improve as a designer.
Of course, I always get inspiration from various sites on the Internet. Recently, I've been inspired by Creative Workshop: 80 Challenges to Sharpen Your Design Skills, by David Sherwin.
This book offers challenges, such as designing a new typeface in one hour. To do this, I take photos of nature and try to mimic these natural designs in my own creations. Such exercises have been a great source of inspiration.
What are you looking forward to in 2016?
I'm interested in developing web design skills. As Custom Media continues to grow as a company, more opportunities are coming up for me to extend my skill set.
Web design has challenges different to that of graphic design, and I'm enjoying the discovery. Programming is also something that I want to learn more about in years to come.