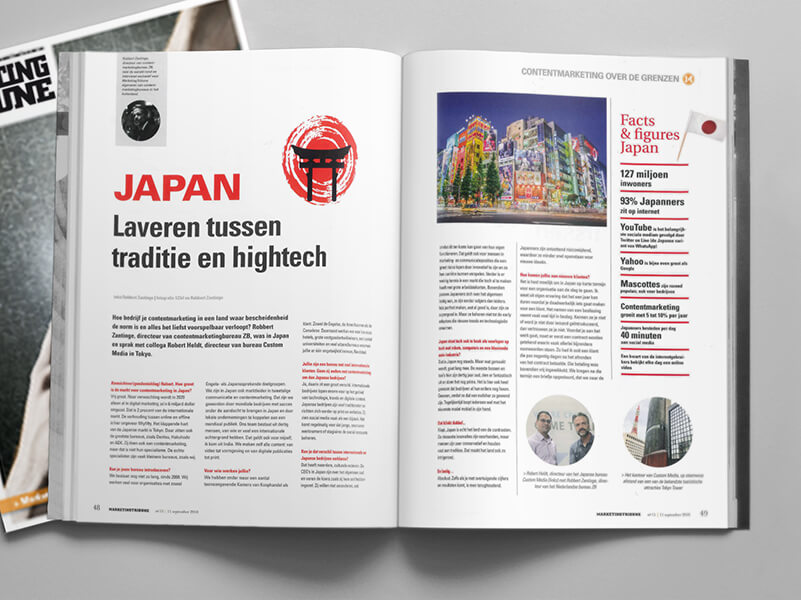 Custom Media Features in Dutch Marketing Magazine
Custom Media President Robert Heldt was interviewed for the September issue of Dutch magazine MarketingTribune.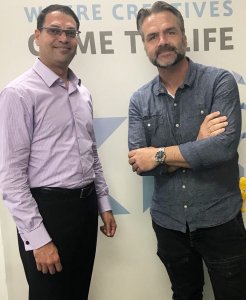 Custom Media President Robert Heldt was interviewed for the September issue of Dutch magazine MarketingTribune.
The interview was conducted by Robbert Zantinge, director of content marketing agency ZB, on a visit to Tokyo. Heldt introduced Custom Media and the unique characteristics of the content marketing industry in Japan.
Content marketing is big business, but there are many small companies doing it
Heldt points out that about $6 billion will be generated through digital marketing in Japan by 2020—but it is often performed by smaller specialist companies, such as Custom Media.
There's a major divide in what Japanese and global companies focus on
"International companies are very strong in the fields of technology, trends and digital content. Japanese companies tend to be much more traditional and focus more on print and websites. They often see social media as a side issue. Young, inexperienced employees or trainees often manage social media accounts [for a Japanese company's clients]."
Much of this divide is due to cultural factors in play at Japanese companies
These include that many CEOs at Japanese companies are older and set in their ways; reluctance by employees in marketing and communication positions to risk being bold and innovative; and a cultural tendency that leads Japanese people to be more interested in perfecting existing solutions than embracing new trends and technologies.
Heldt has his eye on three companies that are doing impressive work in content marketing
One of them is the research website Movoto, whose content has been shared more than 1.7 million times on social media. Another is the marketing company NewsCred, which posts regular content related to its specialties that has helped drive an up sell percentage of at least 33 percent. Finally, ShoreTel is a supplier of communication solutions, which successfully uses keyword-rich content that has helped to triple the number of visitors to its website.
When it comes to Custom Media, Heldt takes pride in two particular projects
One of them was doing social media for Malaysian Airlines. Custom Media's efforts with Malaysian Airlines' Japanese Facebook page led their number of likes to increase 150 percent, and helped drive rapid growth in online bookings. The company even assisted the airline during the troubled times that followed the final flights of MH370 and MH17. The other point of pride is the magazine for the British Chamber of Commerce in Japan, BCCJ ACUMEN, which has been a customer since 2009 and is read by 60,000 people each month. Thanks in part to their work on this publication, Custom Media was named Company of the Year at the 2013 British Business Awards.
Once you have a relationship with a Japanese company, it can be very easy to do business. If you have won their trust, Japanese companies are extremely loyal and easily accept suggestions for improvement.
It can be tough to start to do business with a Japanese company, but things improve once you've established good relations
"It is very difficult to start working for an organization in Japan in the short term. I know from my own experience that it can take a year before you actually make something for a customer. Making a decision often takes a lot of time. If a Japanese company does not know you, or you have not been introduced by someone, they won't trust you. But once you have a relationship with a Japanese company, it can be very easy to do business. If you have won their trust, Japanese companies are extremely loyal and easily accept suggestions for improvement."
It's a country where humility and apologies play a prominent role
"What you certainly should not do [in a business situation] is to brag about yourself too much. Japanese people are incredibly modest and they appreciate that in other people. And they take it very badly when things do not go as expected. A nice example was a train company that apologized last year for leaving a station 20 seconds early. As a foreigner, that still brings a smile to my lips. That really is Japan."