Tokyo American Club appoints new advertising partner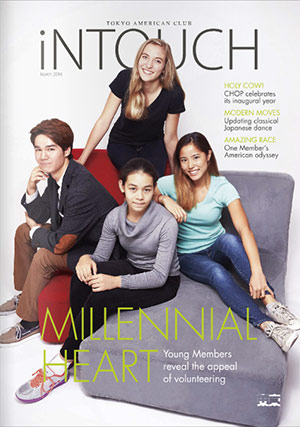 Custom Media is delighted to announce a new partnership with Tokyo American Club to manage all advertising for the private membership club's website, newsletter and iNTOUCH magazine from May 1, 2016.
With a circulation of 5,300, iNTOUCH is distributed monthly to all Club members, as well as premier residences in Tokyo and first-class lounges at Narita International Airport.
With nearly 3,900 members, drawn from 50-plus nations, the Club offers a diverse range of cultural, business and recreational activities and amenities in the heart of the Japanese capital.
Award-winning Custom Media is Tokyo's leading producer of bilingual magazines, videos, websites, communications and social media. President Robert Heldt said:"In this very competitive market, advertising is key for any organization to enter or expand here. We are very proud that Tokyo American Club has recognized us as the best local partner to help preserve and promote their valuable brand."
Tokyo American Club Communications Director Shane Busato said: "By having Custom Media take charge of the Club's advertising business, we will be able to focus our energy and resources on creating even better magazine and website experiences for more Club Members,"
Custom Media Publisher Simon Farrell said: "Tokyo American Club and Custom Media are two great brands that have enjoyed a long and mutually beneficial relationship. This new partnership further strengthens our ties, and we are honored to be chosen from among stiff opposition to help the Club reach some of Japan's most discerning residents and organizations."
Tokyo American Club members enjoy access to world-class recreation facilities, including a rooftop pool, bowling alley, golf simulators, full-size gym, library, childcare center and spa, as well as a host of fitness, cultural and educational programs for all ages.
Besides being home to five restaurants, a bar and a seasonal café, the eight-story facility features seven overnight Guest Studios and superlative meeting, party and conference facilities.
Tokyo American Club was described by private club consultants the McMahon Group as "light years ahead of its U.S. counterparts" and "[as] quite possibly the finest private club facility in the world."
Custom Media is exclusive publisher of monthly magazines and media partner for the American (ACCJ) and British (BCCJ) chambers of commerce in Japan, and producer of BIJ TV, the first and only bilingual online video channel about Business in Japan.
Custom Media's recent awards include BCCJ Company of the Year and Publisher Simon Farrell's honor presented by HIH Princess Akiko of Misaka for "significant work in the field of Japanese-British relations."
Advertising enquiries:
Robert Heldt
robert@custom-media.com
Tel: 03-4540-7730
www.custom-media.com