Founded in 2014, Camelot International School is a K–12 school in Itabashi-ku, Tokyo. Camelot is a fully accredited Cambridge institution that follows the Cambridge Primary and Lower Secondary curriculum, followed by the International General Certificate of Secondary Education subjects.
Camelot was looking to bring in more students, while also increasing their cultural diversity—as of 2018, nearly 90 percent of their students were from Japanese families. Camelot came to Custom Media to help them achieve results on both fronts.
We took a two-pronged approach in coming up with a solution for the school. First, we identified the school's unique selling propositions (USPs) for expat families. Chief among these were Camelot's Cambridge curriculum, smaller class size, and affordable tuition.
People used to say that it was very hard to find out information about our school. Since February, new prospective parents are finding us much more easily, and coming armed with questions specific to our British curriculum. We've tried advertising with other companies and platforms, but this is the first time we've seen a measurable response. This month has been the busiest we've ever had, with dozens of new enquiries from families of Commonwealth countries—we've never seen that before.
Once we had established Camelot's USPs, we focused on reaching the right audience. We targeted a network of people living in Tokyo with affiliations to the UK, including British expats, by providing Camelot with a print advertisement in BCCJ ACUMEN, the magazine that we publish for the British Chamber of Commerce in Japan (BCCJ), and digital coverage on the BCCJ ACUMEN website, in the BCCJ's A-List of international schools.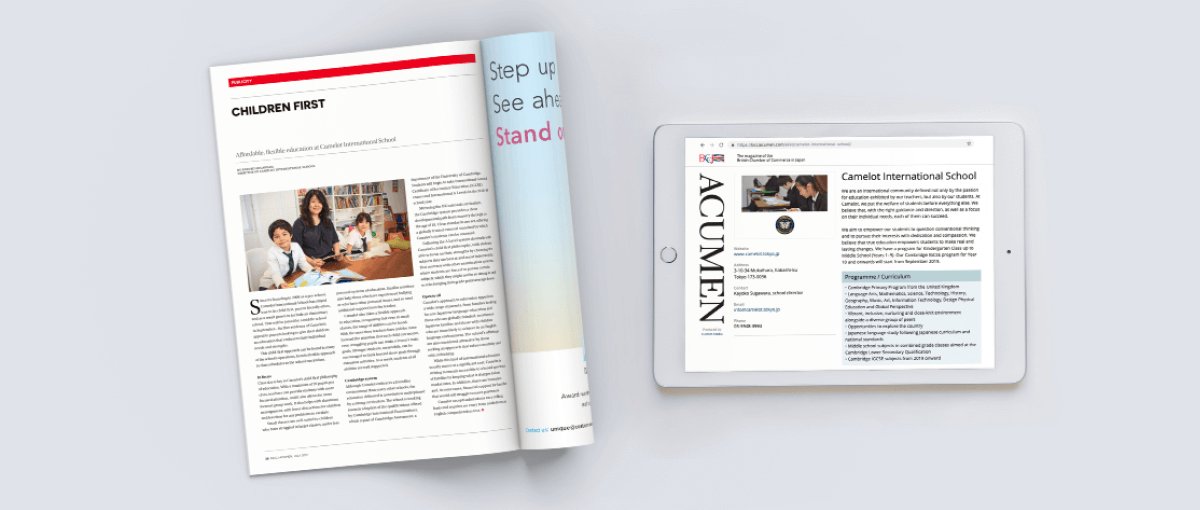 After we got the word out, the results were swift—and impressive. Following the beginning of their ad campaign, Camelot saw a 20 percent growth in enrolled students thanks to a strong boost in enquiries. Of these new enquiries, 70 percent were from families who come from Commonwealth nations, and 30 percent came from families who would be moving to Tokyo from overseas in 2019. The added exposure also helped Camelot dramatically improve their ranking on Google.
Thanks to the attention that we were able to bring to Camelot International School, they now have the opportunity to reach more prospective families and offer a more diverse learning environment.