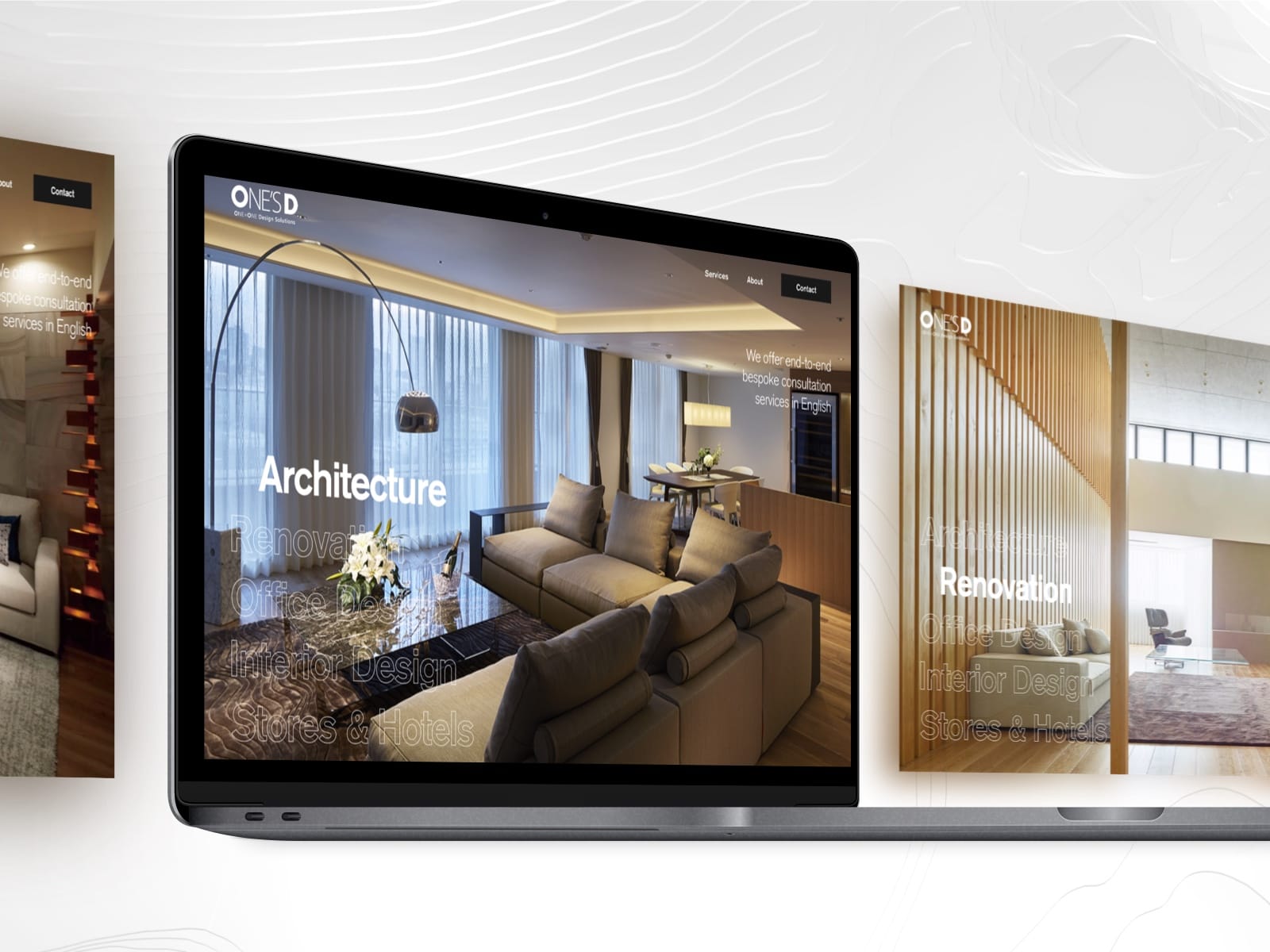 ONE DESIGNS Co., Ltd.
Exciting new website for top architecture and interior design firm in Tokyo
The staff of this leading architecture and interior design company in Tokyo includes architectural designers and first-class certified architects with expertise of Japanese construction and remodeling regulations. Along with its English-speaking service, ONE DESIGNS stands out in its field.
Inspiration from many sources
As ONE DESIGNS' reputation in the global affluent community has been on the rise, the company realized that it needed a new website that would appeal to foreign customers. Its existing website was outdated, so the company requested that Custom Media build it a completely updated website that would better showcase its projects, offer an engaging user experience on both desktop and mobile environments, and feature a level of design polish that would reflect well on its brand.
To get a better understanding of ONE DESIGNS' needs, our art director and digital lead visited the company's office and consulted with staff in order to see what kinds of websites they wanted to emulate. After getting a clear understanding of the company's goals and design inspirations, we realized that the company was looking for a truly unique approach. This, coupled with the creative nature of the work that ONE DESIGNS is doing, got us truly excited about the project.
We then conducted thorough research of several different benchmark websites in a variety of industries, and used our creativity to extract elements from these different websites to give ONE DESIGNS a unique solution that catered to its needs. This led us to two different design prototypes.
The staff of Custom Media was extremely supportive during the difficult process of redesigning our website. We needed modern and dynamic ideas to express the concept of our service to potential clients, and Custom Media made this possible through their expertise. We truly appreciate their speediness, efficiency, and professionalism.
Bringing a website to life
Rather than simply showing the client static mockups of website designs, we created two videos that showed these prototypes in action, demonstrating how users would navigate the website using the two different options. This gave ONE DESIGNS a clear, dynamic sense of the experience that visitors to the site would have. Once the company chose their preferred option, we worked swiftly and efficiently to design and code a website that realized ONE DESIGNS' goals.
We created a site that had a consistent look and feel and which featured visually appealing interface elements, such as smooth scrolling and animations between sections on the website. We coded the website so that it would have cross-browser compatibility and be optimized for mobile environments.
We delivered the project to ONE DESIGNS on time and on budget, and the company has already received high praise from its customers for the new website.