Meet Custom Media's Advisor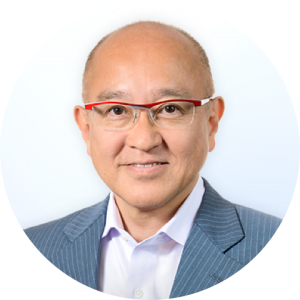 Hometown:
Otsuka, Tokyo
Job Title:
Advisor
What is your favorite place in Japan?
I love Hiroshima. It's a beautiful city with plenty of fascinating sightseeing spots. My son, his wife, and my two grandsons live there.
Tell us about your background:
I am currently managing my own business, servicing US real estate for Japanese investors. Before starting up this business five years ago, I was vice president and general manager of American Express Japan, Asia Pacific, mainly managing new prepaid products. I started my career at Recruit Cosmos, a real estate developer in Japan. I began working with Custom Media while preparing my start-up, and I enjoy working with the diverse team here.
You had a book published not long ago. Can you tell us about it?
I wrote US Real Estate Investment to Avoid Failure. My business is based on consulting for Japanese people to help them drive safe investment in the United States. In the book, I am introducing basic knowledge and key success factors for US real estate investment, especially for Japanese investors, to help them prepare to invest wisely and effectively. I would like to introduce US real estate as a very safe investment and encourage Japanese people to include it as part of their portfolio for the long term. You can find the book here.
What are the most important elements in developing a good relationship with your clients?
I am mainly helping my Japanese clients to effectively access global audiences. Custom Media is based in Japan, and many of our customers are international executives living in Japan. They often play the role of an "international window," since they are influencing people and frequently liaising with their counterparts back in their home countries. More and more Japanese companies are recognizing the effectiveness of accessing these local foreigners. I am sharing the value of this opportunity with many Japanese companies.
What advice do you have for someone interested in pursuing a career in sales?
Sales is all about helping clients achieve their business goals. Developing the best value proposition for your clients is extremely important. And to do that, it is crucial to listen to them.
What do you like most about working at Custom Media?
I have colleagues from all around the world and from different backgrounds. We create very innovative ideas and high-quality services and products, and I am always learning from this creative process. And I enjoy the challenges of liaising between international businesses and Japanese businesses.