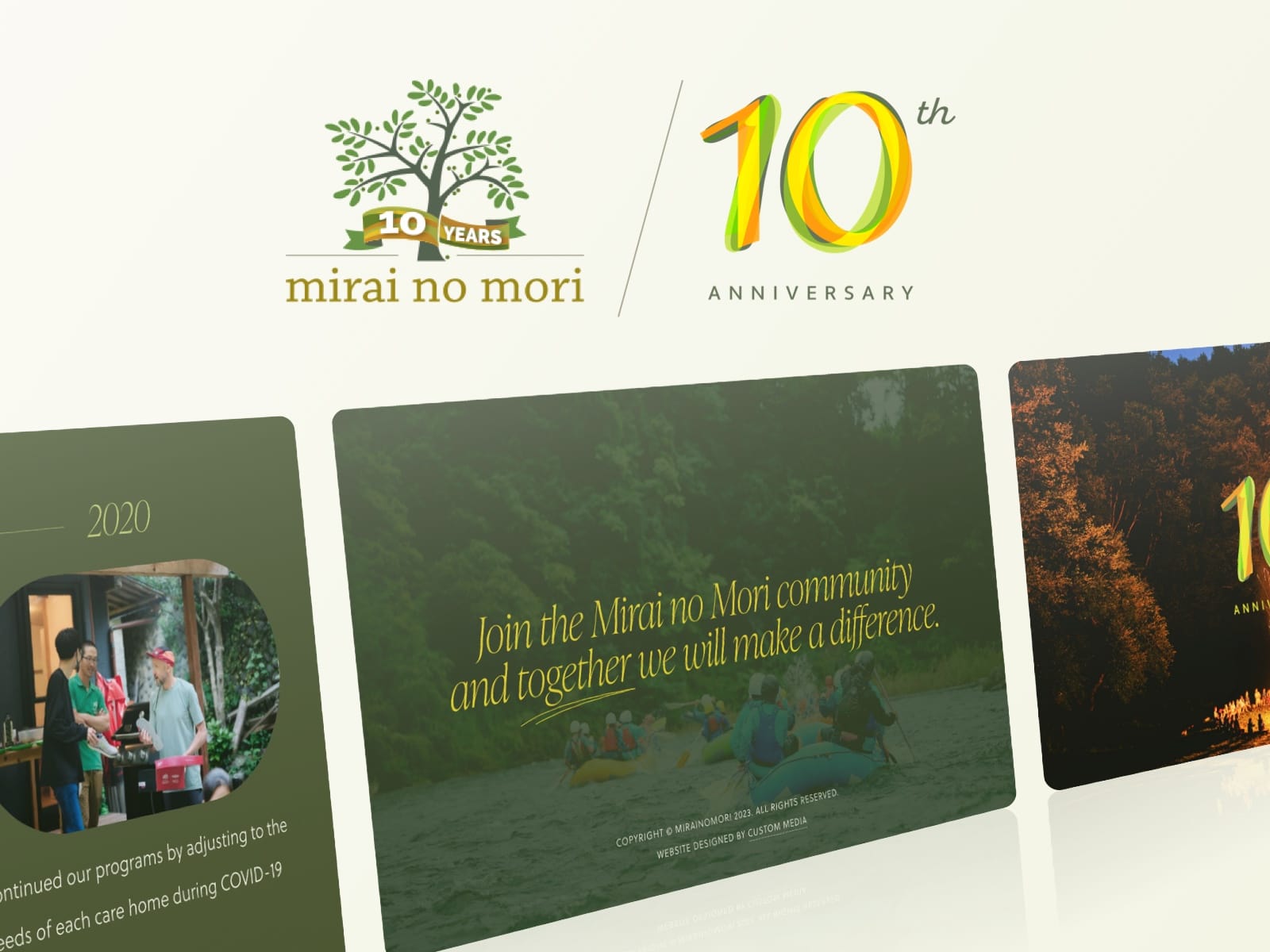 Mirai no Mori
Creating key assets to help a dynamic NPO mark its 10-year anniversary
Mirai no Mori is a not-for-profit organization (NPO) that creates life-changing outdoor programs for abused, neglected, and orphaned children in Japan, supporting their growth into happy and successful young adults.
Custom Media has worked with the NPO on various projects over the years, and when they wanted to mark their 10th anniversary in an especially memorable way, they came to us for support.
We began work on this project by meeting with Kozue Oka, Mirai no Mori's executive director, to find out more about what they needed. There were three key elements that would be a part of the milestone: a new logo, an update to their newsletter, and a special anniversary website landing page. Ultimately, these elements were meant to get people interested in the cause, increase monthly donors, and boost fundraising.
The logo was a key element for them, as it would feature in a collaboration with the Knights in White Lycra (KIWL), a group that supports a variety of charities through its regular cycling events. KIWL was also celebrating their 10th anniversary this year, and Mirai no Mori's new logo would be appearing in KIWL's imagery for their rides.
Creative Journey
We created two logos, in keeping with the briefing discussions we had with them. One was a revision of their original logo, which included their hallmark tree and a banner indicating the 10th anniversary. The other was a standalone 10th anniversary logo, which could be used in cases when people would already be familiar with Mirai no Mori, such as on the landing page.
The colors that we chose for the logos were a combination of Mirai no Mori's unique shade of green along with complementary colors. We chose bright colors in the logos to provide a celebratory feeling to commemorate the anniversary.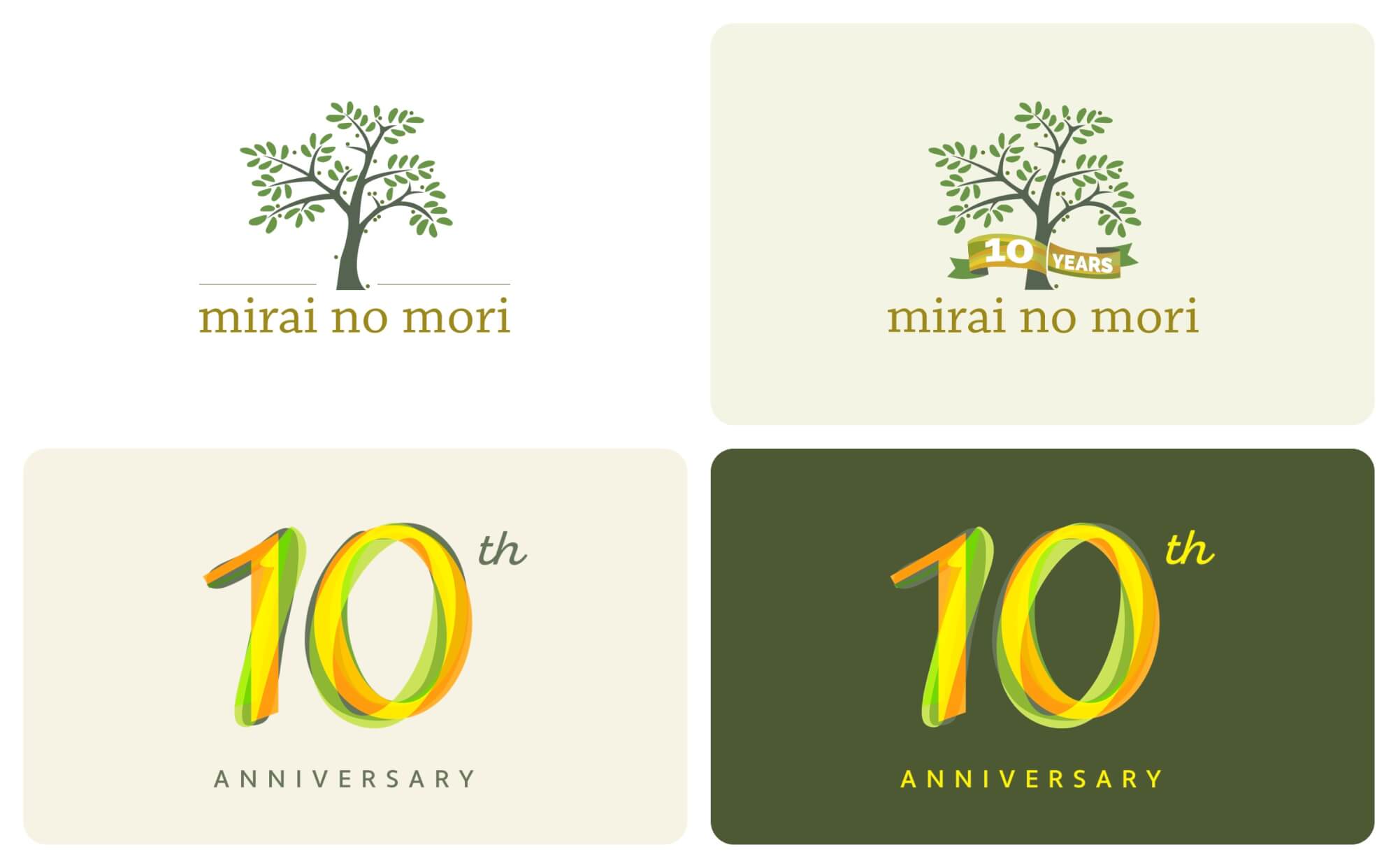 In working on an update to the newsletter, we needed to provide them with a solution that didn't involve a completely customized design. So we set up a modern template that could be used with the popular Mailchimp platform, and which was aligned with their brand identity. We were able to deliver this right after the new logos were created.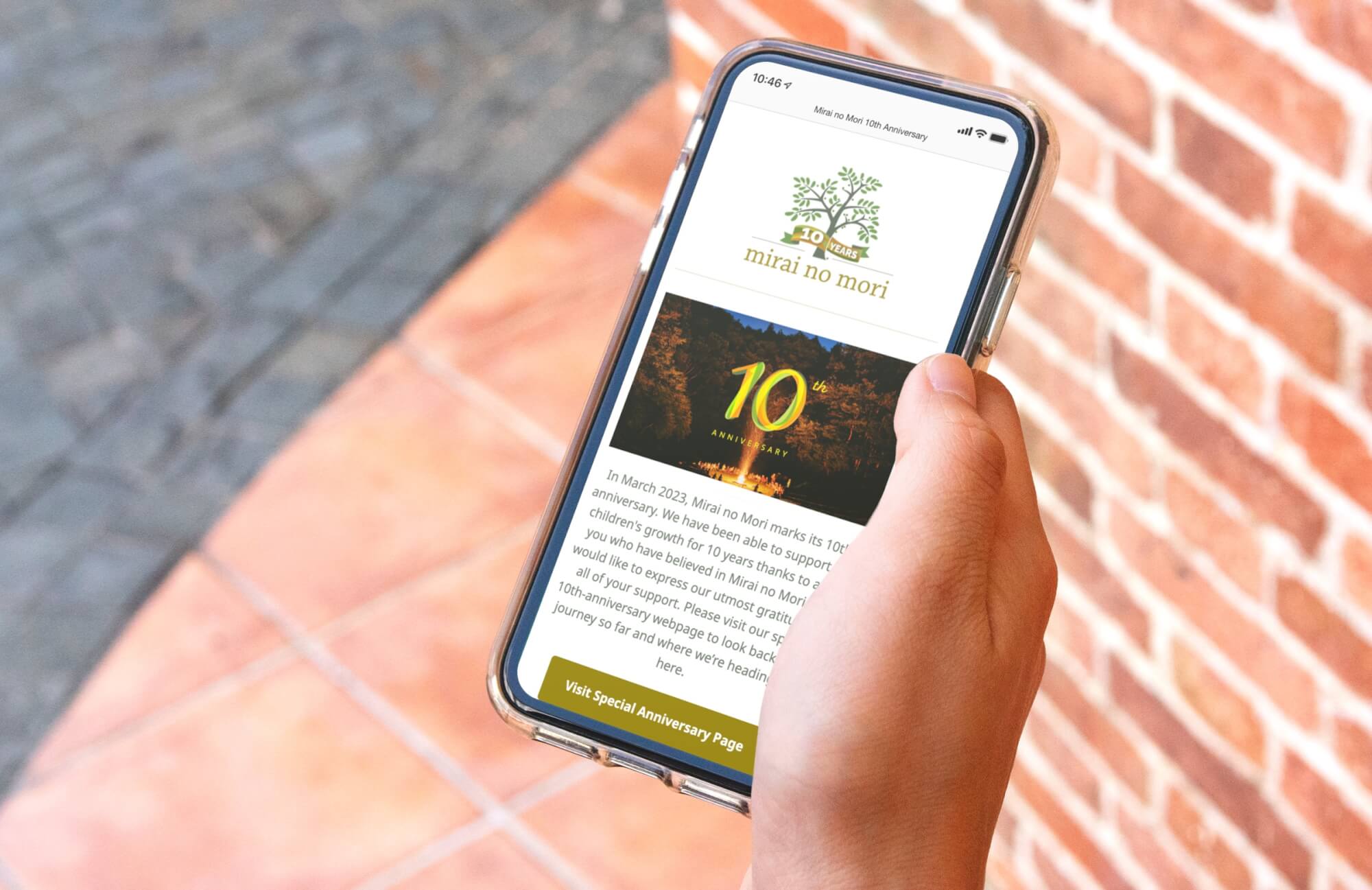 The last element was the landing page. We collaborated closely with Kozue to decide on the material for the landing page, including recommended sections and example content, which they used as a basis to expand on.
When it came to the design of the landing page, we shared two options with them. One was a safer approach, using their current brand colors in a solid and active way. The other option was more daring, and used high-contrast, modified brand colors in a way that communicated both a sense of celebrating what the organization had achieved so far, as well as a sense of humility in recognizing the challenges that the children they help have faced in their lives. Mirai no Mori chose the latter option, and progress moved quickly as we worked closely with them to complete the design, develop the site structure, populate it with content, and carry out revisions while adhering to rigorous quality standards.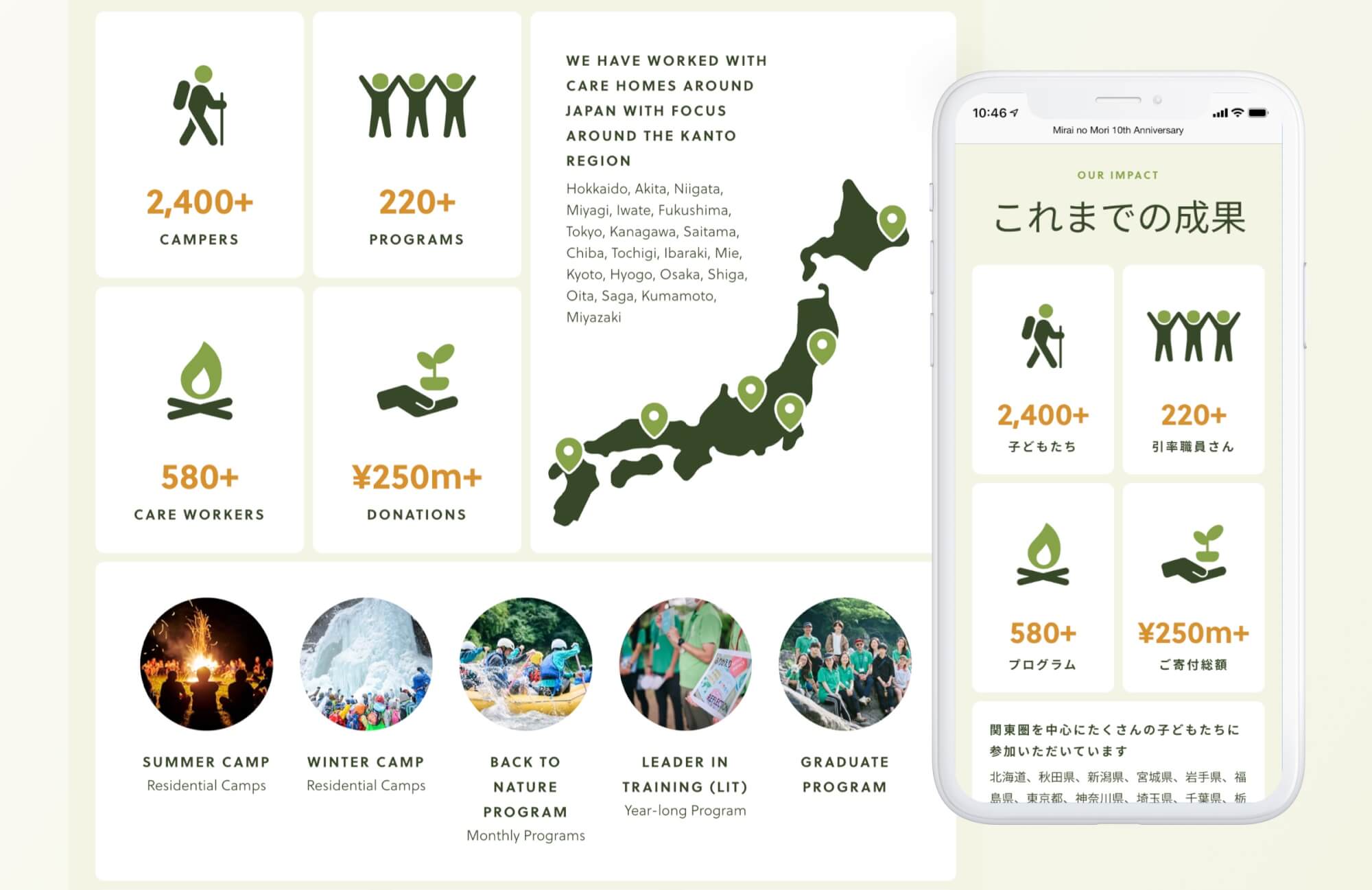 We had completed our deliverables, but this didn't mark the end of our support for Mirai no Mori. Throughout their anniversary year, we will be continuing to advise them as they add timely content to their landing page and main website.
Rewarding Experience
As Kozue explained, she was thrilled with the support:
It is crucial for us to have a well-functioning website, and Custom Media has helped us to maximize the impact we can have. Custom Media's generosity and creative genius have been instrumental in helping our organization to grow.
For our team, it was also a rewarding experience. Michael Pfeffer, design director at Custom Media explained: "The collaboration with Mirai no Mori went smoothly, and I was very happy with the overall outcome. They are a pleasure to work with. I appreciate that Kozue has a clear vision for what she intended for the project, and that she trusts our advice when it comes to creative and technical aspects.
"Part of what contributed to the success of this project was our own team's efforts to understand a client's needs and their brand, and to consider how the logo will be applied in the future. From the time the design team created the first round of logo options, the web team was already thinking of how it could be implemented on the landing page."
Devin Surya Putra, our senior web designer and front-end web developer, reflected on his past work with Mirai no Mori and took pride in being able to help an organization that is providing such a valuable service: "Time flies! I still remember the first time we worked with Mirai no Mori back in 2017 like it was yesterday. Collaborating with them made me realize my professional work could indirectly help children achieve a better future. Mirai no Mori's 10th anniversary means that we have continuously helped the organization for six years. It has been a great honor."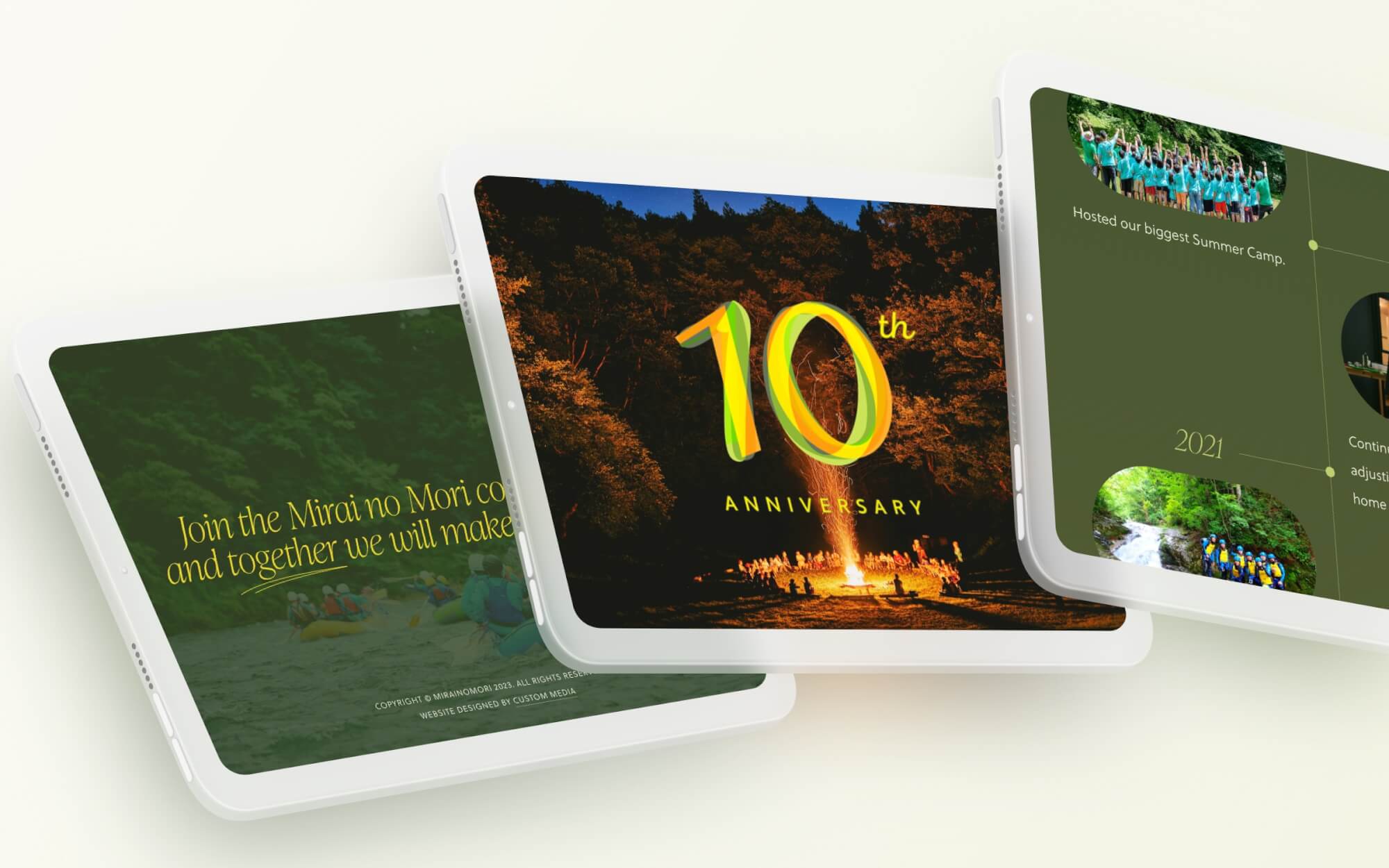 Custom Media CEO and Co-Founder Robert Heldt was enthusiastic about our own milestone in 2023, and said that this particular project with Mirai no Mori was both timely and enriching: "This year marks the 15th anniversary of Custom Media's founding, and it has been a great pleasure to be able to mark it with our work for such a worthy organization. I look forward to many years of further collaboration."