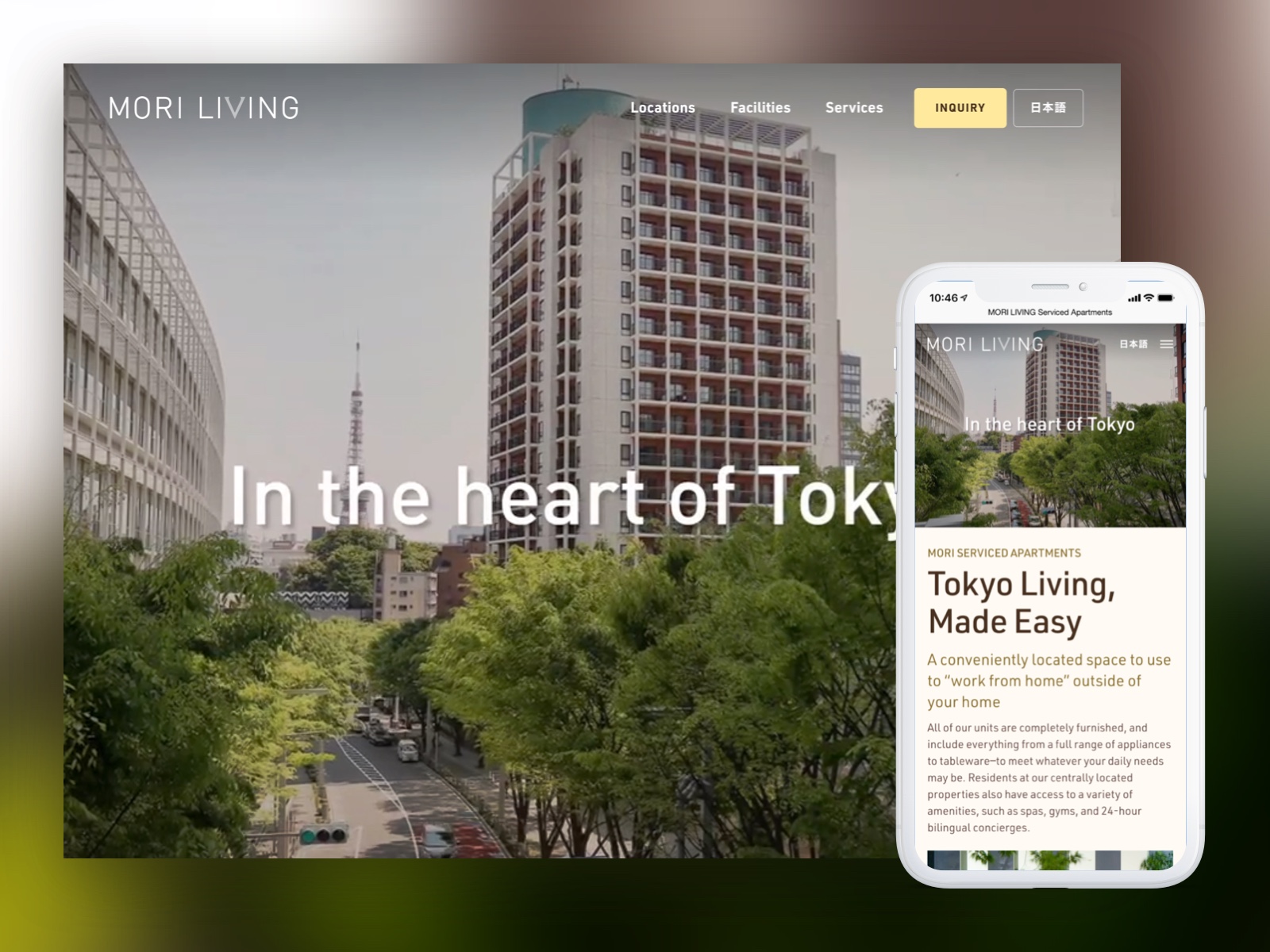 MORI LIVING
Creating an eye-catching video and online presence for the real estate leader
MORI LIVING is a Mori Building Co., Ltd. brand of residences. They are a long-term customer of Custom Media, and when they wanted to create a commercial video that would play on elevator screens at Mori Building Co., Ltd.'s buildings across Tokyo, we were the first company to come to their minds. After we presented three original concepts to MORI LIVING, they chose the "Time for an Upgrade" concept, which focused on the daily perks of living in a MORI LIVING serviced apartment, contrasted with the hassle and inconveniences of living in an ordinary apartment. They wanted us to highlight certain services that they offer, such as laundry, house keeping, breakfast buffets, and a concierge.
Perfect Preparation
After settling on a concept, we provided our client with comprehensive storyboards to break down the concept scene by scene, and refined the storyboards after rounds of feedback. Before we began shooting, we visited many of MORI LIVING's luxury residential properties to assess their suitability for logistics and other factors such as lighting and atmosphere. The commercial required an actor. After contacting a variety of agencies and selecting a range of potential actors, we held auditions and provided materials such as headshots, scripts and props. MORI LIVING staff members were present at the auditions, and we also filmed each one and provided the client with an audition cut list. This allowed the client to select the best candidate for the role.
Shoot Day
As well as an external professional hair and makeup artist, we also hired a director of photography and camera assistant to ensure that we could maximize the visuals of each scene, and to allow our video team to oversee as many things as possible. Our video producer was able to thoroughly direct each scene and frequently consult with the client, ensuring their needs and expectations were met. Thanks to our thorough preparation, we wrapped up the shoot ahead of schedule.

Successful Delivery
After shooting, we created a video that didn't just feature beautiful visuals, but also made use of color as a narrative tool. Under the guidance of our art director, text animation, end cards and other graphic elements were created and incorporated in the video. Custom Media oversaw the delivery of the finished commercial in multiple formats—suitable for web and elevator screen broadcast.
To accompany the video, we created an integrated marketing campaign that highlighted MORI LIVING's unique selling points. This campaign included a print advert in Tokyo American Club's INTOUCH magazine, a banner advert campaign, and an advert in CNNj's program guide.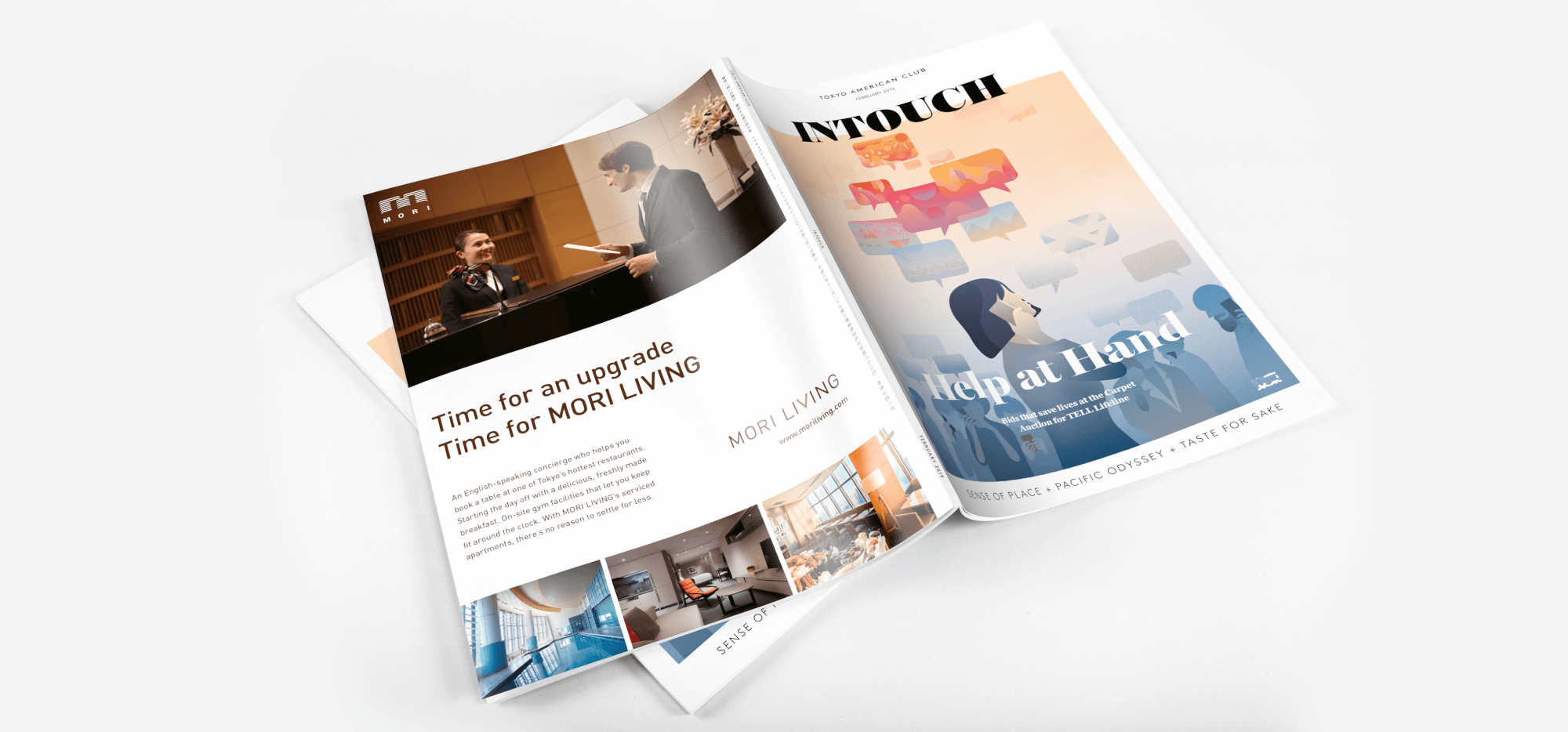 Later, ​​they came to us when they were looking to develop an attractive landing page that highlighted their serviced apartments. They were aiming to appeal to Tokyo's international residents who were seeking furnished apartments, and people who want to rent a separate space to use as a convenient and comfortable work-from-home location.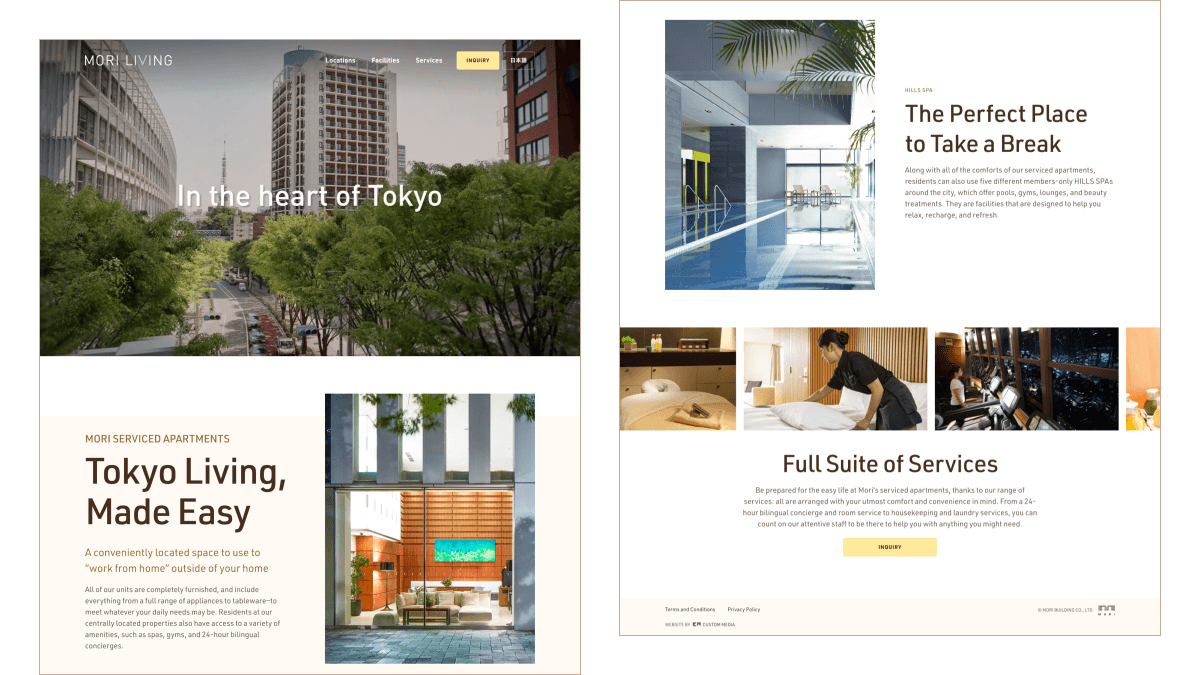 The concept of the site was elegant, easy to understand, and welcoming to Tokyo's international community. Thanks to our familiarity with the client's overall branding guidelines, we were able to create a landing page that was visually appealing and easy to navigate.
We are very pleased with the visually immersive and easy-to-navigate website that Custom Media created for us. We have a longtime relationship with Custom Media, so we trust they would understand our needs quickly and correctly. They delivered the final product on time even though we gave a lot of feedback to respond to within a tight production schedule. It's always helpful to have such a team to rely on for any digital marketing assistance.
The top of the landing page features an engaging video that shows some of the most appealing aspects of MORI LIVING serviced apartments. And in developing the site, we created a transition effect when users hover over buttons on the landing page that mirrors the transition styles in the video.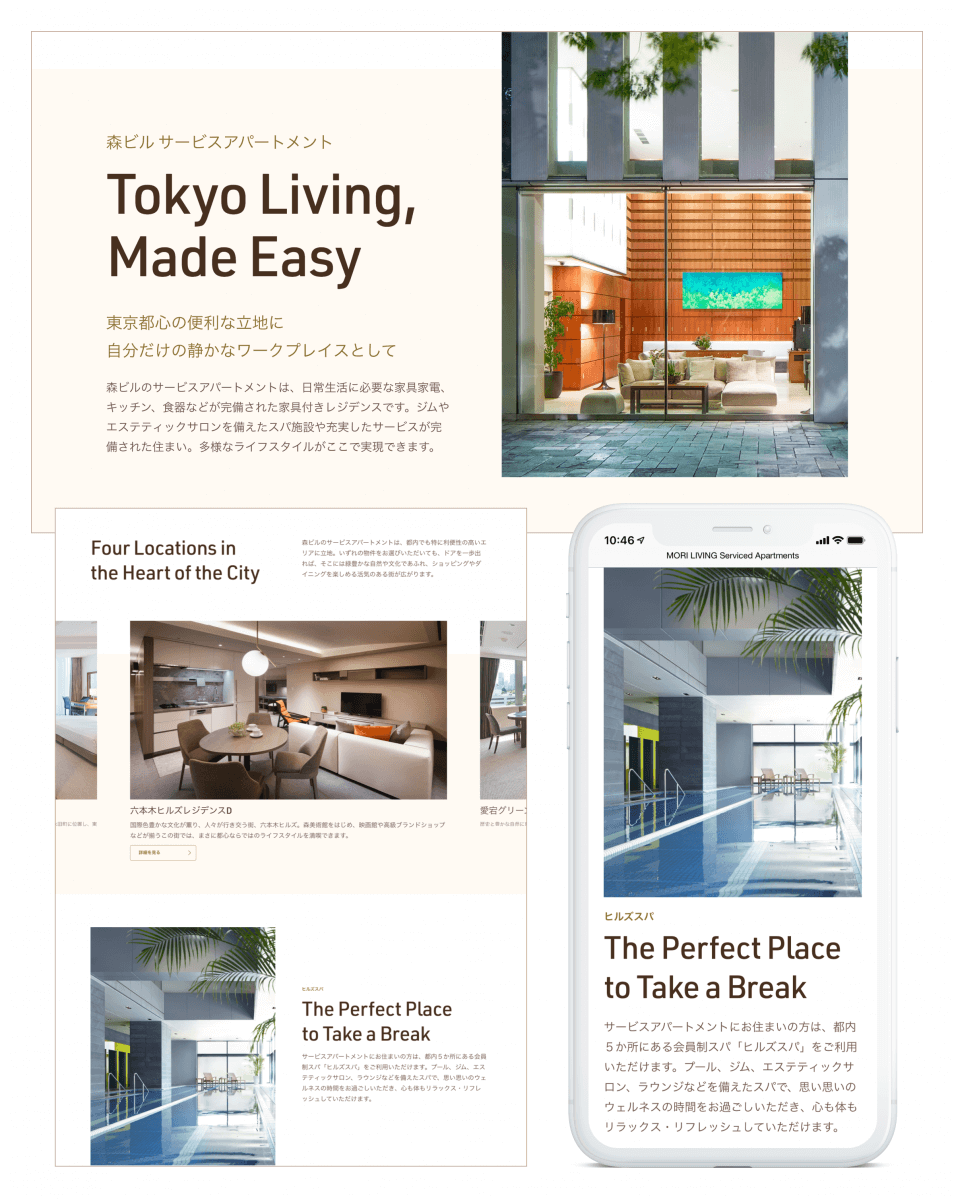 To match the visual elements, the copy on the landing page clearly and succinctly expressed the varied appeal of the serviced apartments—in English and Japanese—making it easy for visitors to quickly discover the benefits of the serviced apartments. Although the schedule for the project was tight, we handled the necessary rounds of feedback quickly and delivered the landing page to Mori Building on time, within budget, and to their complete satisfaction.