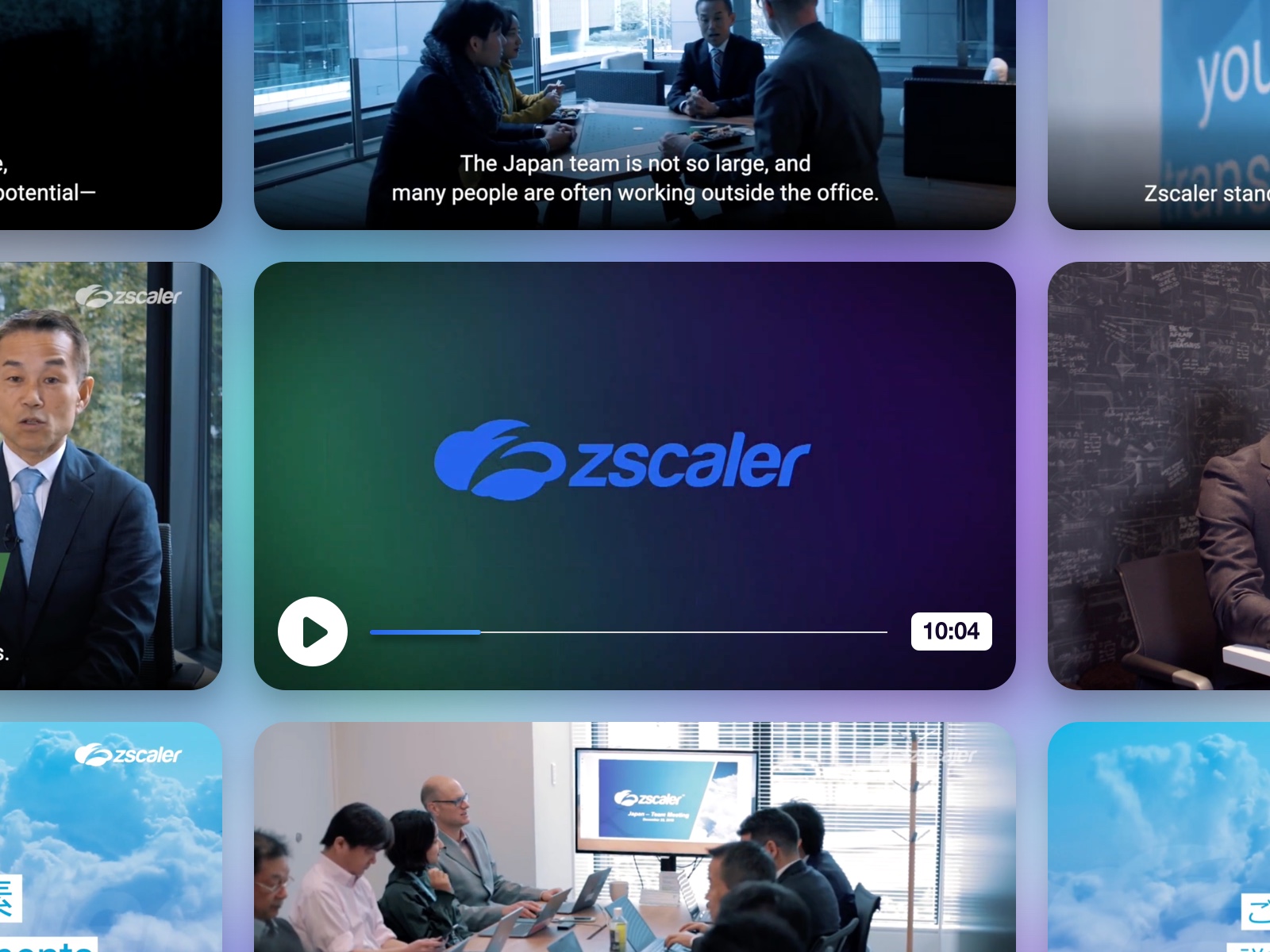 Zscaler
Crafting compelling storytelling videos for a B2B SaaS leader
However, when they were first launching in Japan, they needed to establish a strong presence in the market and attract employees. Zscaler came to Custom Media to consult with us and get our help in producing a series of professional videos to achieve their goals. We worked with them to create a series of videos that helped increase awareness among their core customer base and develop an employee branding program that assisted in attracting staff in a very competitive talent market.
We collaborated closely with their North Asia team to learn more about their needs and how they wanted the videos to address them. Armed with this knowledge, we got to work.
Central to the process was creating detailed storyboards that provided a visual outline of the key scenes in the videos. We also visited a number of locations, including the Zscaler Japan offices, to find ideal spots for interviews and filming.
Our video team scheduled and arranged for all of the shooting, which went smoothly. Then as we moved to editing and post-production, we skillfully created fast-paced, informative videos that kept viewers' attention from start to finish thanks to a storytelling approach that resonated with audiences. The projects were all delivered on time and on budget.
One video featured a series of interviews with Zscaler Japan team members discussing why they joined and what they enjoy about working at the company, which was integral to Zscaler employer branding efforts. Another was a sales video that explained the benefits of one of Zscaler's security products, Zscaler Private Access, in a captivating and technically informative manner, which proved to be a key asset in reaching out to Japanese chief information security officers.
Finally, an additional set of videos proved to be an integral part of a successful awareness campaign that highlighted how Zscaler's services support digital transformation and workstyle reform in the post-Covid era.
The videos were compelling, engaging, and proved to be a hit with both Zscaler's internal team and their customers. They continued to work with us on a number of projects that followed.
This included a series of keynote and thought leader videos that were created for Zscaler's Zero Trust Live 2021 online conference. These noteworthy videos were included among the content that was live streamed during the conference, during which key figures from the security software industry gathered to share insights.
Working with Custom Media has been a tremendously rewarding experience. They really got to know our corporate culture and created unique content that showcased our strengths.  Our entire team is thrilled with the videos they created for us. They have also helped tremendously with our recruiting activities.