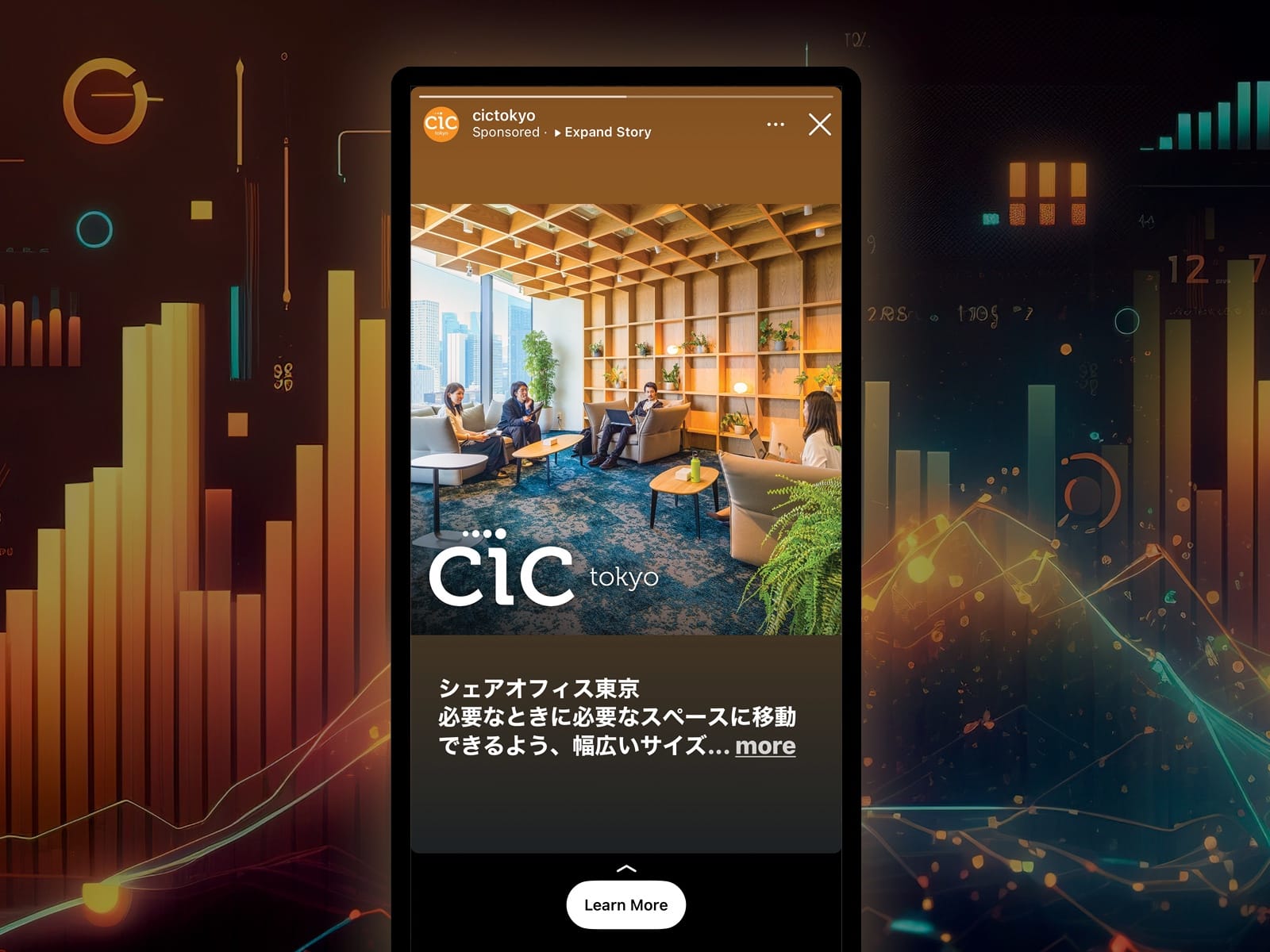 CIC Tokyo
Building a digital advertising strategy for one of the city's most innovative coworking spaces
Cambridge Innovation Center (CIC) is a groundbreaking shared workspace company that was founded in Cambridge, Massachusetts in 1999 and has expanded to eight cities around the world. Its first in Japan, CIC Tokyo, opened in 2020. The location is home to divisions of major Japanese small- to medium-sized enterprises, startups and entrepreneurs.
While CIC Tokyo was bringing in entrepreneurs and smaller businesses as tenants, it was looking to increase the number of larger companies with 20 to 50 employees. As its internal digital marketing campaigns needed a boost, they were looking for an experienced digital marketing agency to help achieve their business goals. This is why they reached out to Custom Media.
Working with Custom Media for our digital advertising was a great experience. Their team was professional and engaged, and we appreciated being able to collaborate with them closely. Their campaigns boosted traffic to our website, generating quality leads that converted to business and improved our overall brand awareness.
Custom Media CEO and co-founder Robert Heldt said, "In 2020, when we decided to move out of our traditional office space to a shared workspace in keeping with the trends, I researched all available options in the market and was quite impressed with what CIC Tokyo had to offer. Their concept was innovative, the space and amenities superior and their staff warm and friendly. Moving to CIC Tokyo was a good decision for our business and our team."
Our team enjoys working at CIC and being a tenant, and we knew firsthand the amazing benefits of this innovative workspace. So we were thrilled by the opportunity to collaborate with their Tokyo and global marketing teams and help them meet their needs.
To begin, we consulted with them closely to get a better sense of their short- and long-term goals when it came to reaching their targets. Once we had a clear understanding of what they needed, we created an approach to get in front of the key decision makers who lead those medium-sized businesses and to generate a stream of qualified leads through an always-on search inbound marketing strategy.
Next came implementing it. This involved strategic digital promotions via Google search and display advertising on Facebook and Instagram. In the beginning, the display advertising focused on two aspects of the business that were most beneficial to promote: the sense of community and the spaces at CIC themselves. In combination, the appeal of these elements would be strong for business owners—particularly when it came to the community aspect, as it can boost the morale of a company's teams to attend events, network, and potentially develop new business leads.
Meanwhile, the Google search ads campaign as well was running. This element of the strategy was based on continual research into the relevant keywords to be included in ad copy, and how we were bidding for the ad spaces as well. As the campaigns progressed, we adjusted elements of the campaign based on its performance and CIC's needs. Sometimes this involved adjusting ad keywords to focus on international business leaders or women business leaders, for example.
As the client explained, they were impressed with the performance of the campaigns, as even internal team members would see the display ads on their Facebook or Instagram feeds as soon as new campaigns launched. In addition to monitoring and revising digital advertising campaign assets, we worked to refine the user journey that potential customers would have as they moved from a search or display ad to CIC Tokyo's new website. We also worked with CIC Tokyo to develop new campaigns based on events or other content ideas that arose.
CIC Tokyo saw significant boosts in traffic to their site thanks to our strategy, which has helped them bring in more tenants, as well as spark interest in other possible locations in Japan where CIC is planning to open.