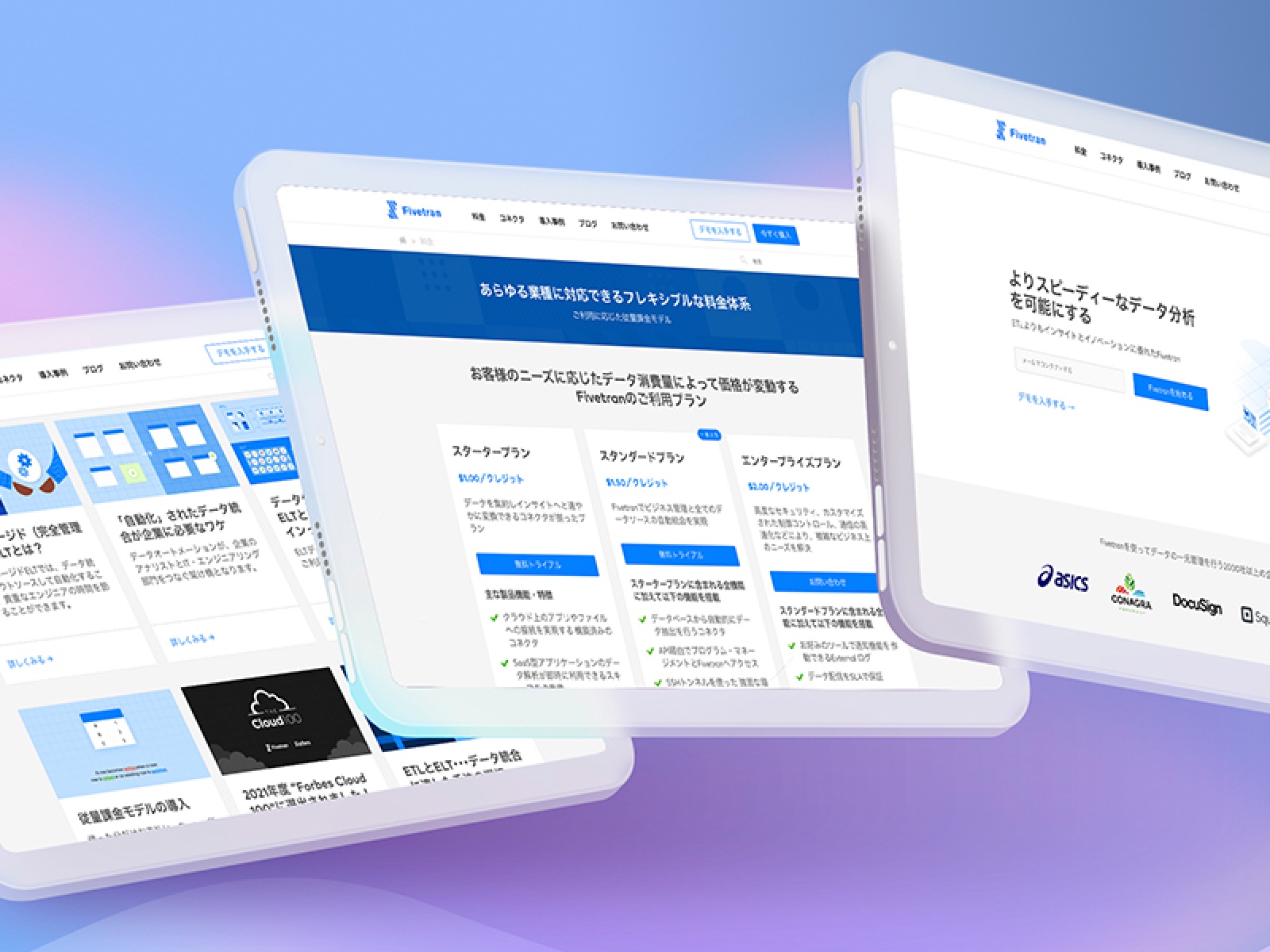 Fivetran
Helping a top tech firm enter the Japan market
Fivetran is a leading data integration service provider, headquartered in California. Recently, they have been expanding in the APAC region, especially the English-speaking countries of Australia, New Zealand, Singapore and India.
In 2021, Fivetran targeted Japan as one of its priority markets for entry, and when they were looking for a partner to localize their marketing and sales material, they came to Custom Media.
After consulting closely with Fivetran and discovering their needs, we began working with them on several projects. First, we localized their website by transcreating their existing content into Japanese, and established a Japanese blog. This carefully crafted content was created with an eye towards helping Fivetran effectively communicate with the Japanese market. 
We also worked with Fivetran to localize their explainer video. Key to this localization was recording a professional Japanese voiceover, sourcing new background music, and skillfully managing post-production. In addition, we localized a 15-minute sales demonstration video, for which we developed the script, selected an ideal voice actor, recorded the voiceover and edited a final version of the compelling product.  
Entering into a new market can be quite daunting, especially one that I've had no prior experience in. We needed some quick wins in the Japan market, and to do this meant we needed to turn things around pretty quickly and seamlessly all whilst staying within our budget. Custom Media helped alleviate all pressure for our Japan expansion and have been a pleasure to work with throughout. The word 'no' doesn't exist in their vocabulary—which is exactly the type of people I love working with. As with any marketing strategy, there are bound to be hiccups along the way. Whenever we were faced with a problem, Custom Media had several solutions ready to go so we could quickly solve any problems we encountered.
The final component of our work with Fivetran was establishing their digital marketing strategy for Japan. This entailed successful keyword planning for search engine optimization and search engine marketing, designing appealing ads that would appear on search and social media, and executing a series of performance marketing campaigns. To continually improve on these digital marketing initiatives, we maintained monthly reporting, planning, and consulting meetings with Fivetran to optimize results.
Throughout all of these projects, Custom Media was able to meet Fivetran's deadlines, while staying within budget. And with our help, Fivetran is already making a strong headway in this country: they are steadily growing their Japan market portfolio of clients and will soon be hiring their first Japan-based team member.