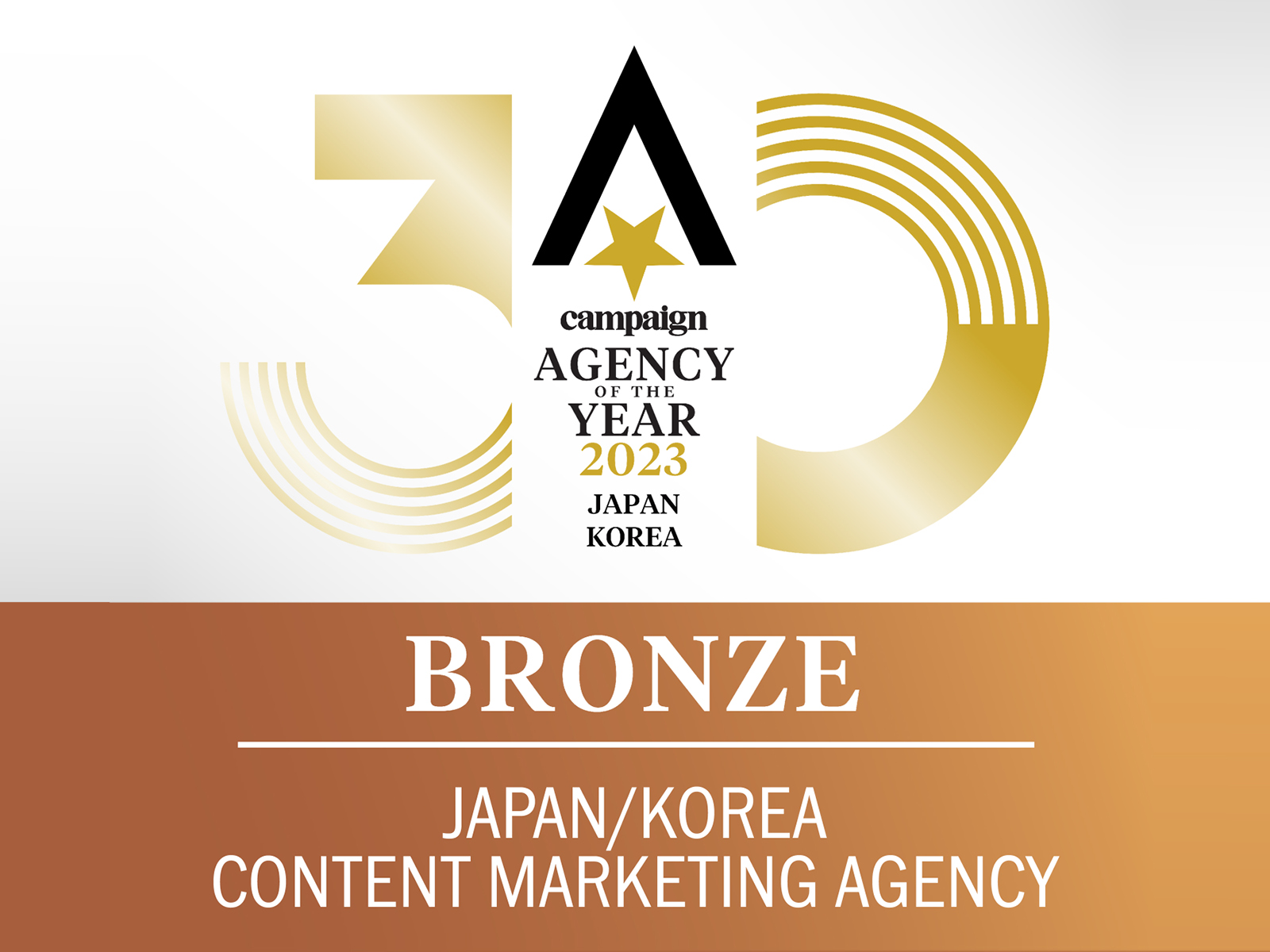 We've Won a Campaign Asia-Pacific Agency of the Year Award!
We are honored and humbled to have been presented with this major industry accolade, which recognizes leading achievements in the field of content marketing.
Content creation is at the heart of what we do at Custom Media—using our storytelling prowess to humanize brands, and help them connect with their audiences—so we're thrilled to be recognized for our work in this field. Campaign Asia-Pacific's Agency of the Year Awards celebrate top marketing and PR companies in Japan and South Korea, and we were presented with the 2023 Japan/Korea Content Marketing Agency of the Year Bronze Award in a ceremony at the Conrad Tokyo on November 30.  
This marks a major milestone for us. The Awards celebrate top marketing and PR companies in Japan and South Korea, and since the early 1990s, they have recognized inspiring leadership, management excellence, outstanding business performance and overall achievements in advertising and brand communications. The results are tabulated by the leading accounting firm PwC and it is the only program to honor agency excellence at local and regional levels.
We were recognized for our significant work for Japan's Ministry of Economy, Trade and Industry; West Canada Homes, a developer of custom-designed luxury residences; Greenpeace; the artist David Hewett; GoConnect, our in-house media platform; Executive Fight Night, which supports the local charity Shine On! Kids; and Tokyo American Club.
Other activities recognized were the launch of our monthly SaaS Source content—which tracks, translates, and analyzes what's happening right now in the local market to provide insights to global SaaS brands, helping them succeed in Japan—and the participation of our CEO Robert Heldt and COO Sam Bird at events such as Advertising Week Asia 2023 and on several webinars held in collaboration with organizations in the European Union and the UK.
Robert shared his excitement about the award: "I couldn't be happier about Custom Media being honored for our achievements in content marketing, which is integral to what we do to bring our clients' brands and stories to life in Japan. We couldn't have done it without the hard work of our talented and loyal team members!"