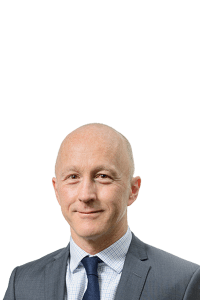 Hometown
Sydney, Australia
Job title
Advertising Sales Director
What words do you overuse at work
In the end
Recommended industry reading
Contently.com and Forbes
Favorite hangout in Tokyo/Japan
Zempukujigawa. There is a little forest by the river, close to the cafes of Kichijoji but away from the hustle and bustle of the city.
What is your background?
After four years of an engineering degree, I completed a communications degree at the University of Technology Sydney. In my previous role, I was working with major industrial global companies, such as Siemens, Autodesk, and CISCO, helping them to put together content marketing strategies for targeting the industrial market.
I've been in advertising for 20 years, having worked in Sydney and London—and now Tokyo—for major players such as News Limited, RBI Media, and Bauer Media Group.
What skills are required in advertising sales?
I'm really passionate about providing insights and connections; to me, that's what a salesperson is about, not about selling ads. I consider how I can help clients connect with the market, and what insights I can bring to help make their business better. I think important skills are:
Buyer-behavior listening
Entrepreneurial mindset
Curiosity
Resilience
Strong ability to communicate
Good work ethic
Informed approach
What is a typical day for you at CM?
I come to the office early, as I believe preparation is important, plus it's a great time to focus on specific projects and read the news of the day on my clients' markets. I also often attend industry events in the morning. Once the day is in full swing, my focus is talking to clients, working on projects, helping the sales team achieve their goals, and collaborating with colleagues in editorial and production to make sure the business runs smoothly.
How is the rise in content marketing affecting advertising sales?
Content marketing is here to stay, however communication and content are ubiquitous as everyone is a publisher these days. We need to have an understanding of the market or buyer personas. What is the ideal target audience? What do they do? What do they engage with? We need to personalize the message to that audience. If you know how they operate, you can deliver the message at the right time, and in the right medium. Follow that by measuring the results.
In terms of the buyer journey, by the time a client brings in a salesperson, they are 75% of the way on that journey to buy something; it's really important that the salesperson influences decision-making about the marketing channel of choice at the start of that journey.
The balance between print and online is really important. The audience wants to be informed and educated. They don't want to be told. Print is about discovery. Online is about engagement. If an executive is in a business lounge, they will be reading a magazine. They are relaxed, and are digesting the information. If they are out and about, they will be using their smartphone.
What challenges and opportunities exist?
With native advertising—content that matches the format and style of the platform on which it appears—it is important to always find a unique angle. You can differentiate from others by choosing the type of content, and having an understanding of what is important to the audience.
When people think of digital, they think that it's free and easy—and it's neither if you want it to work for you. Successful digital campaigns take time to plan, and require investment in developing the right content and distribution channels. Custom Media provides clients with deep insights that will add value to the client's message, and then tailor the solution so that the objectives are achieved. This strategy is the reason we work with many leading local and global brands.
How can clients capitalize on their advertising spending?
Integration and touch points are key; that means utilizing all available relevant channels to market including print, digital, video, events, and other solutions. Essentially, using strategic touch points—with quality content delivered at the right time—is what clients should be looking to achieve.
What drives you in your work?
I like to build things. In my previous role, I built concepts, produced content for events, and organized roundtable meetings, webinars, and integrated solutions. I would like clients to think that I have something different to offer than other sales people because I think deeply about their business. My ultimate goal is to be seen as a valuable marketing extension of my clients' business.