Interview: Paul Leonard
March 23, 2017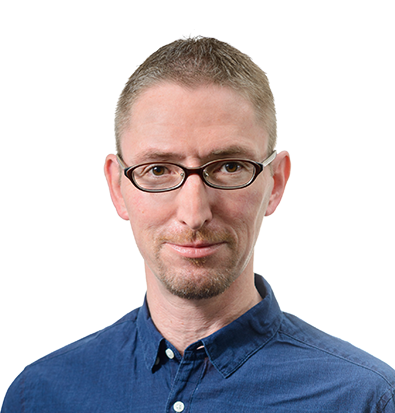 Name: Paul Leonard
Hometown: Newcastle, England
Job Title: Studio Manager
Favorite Hangout: Basically anywhere that serves craft beer. I kind of grew up in Kichijoji for a while, so I like going back there occasionally.
What is your background?
My background is varied. Although I'm now working in a creative environment, I started my career in construction. I was about 20 years old when I got a job working in computers for an advertising agency, and that's where I was introduced to design.
I stayed there for about a year learning production, and then moved to a daily newspaper where I was in control of building the pages. But in those days we didn't have computers to do anything, so it was very hands-on.
It was around then that the Macintosh hit the market. I was keen to work with computers, so I decided to leave the newspaper and join a design bureau where I had the opportunity to work with one of the best designers in England at that time. He was very well known, very famous. I learned about design from him and stayed there for about a year.
I was about 23 years old when I decided to leave Newcastle, and after three weeks of traveling around Japan, I made the decision to come back to Japan on a tourist visa. I was lucky enough to get a job within two weeks, and they sponsored my visa. I continued design and I did that for a while, but then all these new technologies were coming out and they all interested me.
One of these technologies was something called "the Internet." I decided to look into this and got involved working with the Internet, first as a designer, then as a developer.
I then moved to another software development company and did software engineering for about three years. But I missed the creative aspect of my work, so I decided to go back to the creative industry, bringing all my experience from the software development industry with me.
I joined Custom Media about four and half years ago. We didn't have an Internet development department then, but now we have two guys working full-time on Internet development. So, I kind of brought that experience here, along with my creative experience, and am hopefully helping the company to grow.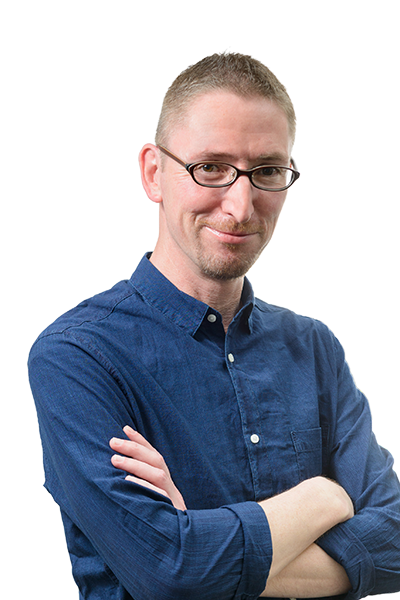 What do you do at Custom Media?
I manage the studio, the schedules, making sure work gets done on time and ensuring the quality of work is high. It's not just the design work; I also do all the Internet and video quality assurance.
I am also responsible for designing BCCJ ACUMEN and normally work on a few other projects.
What skills do you use at work?
All in all, I think you have to be open to learning new things and have a very calm temperament, because that helps everybody else to do their jobs better. So, I don't have a specific skill that I use to do my job, because every day is a little bit different. I call on all my experience almost every day for any situation that arises.
What inspired you to work in this field?
It was the designer that I first worked with at the design agency. I'd seen things that he was producing, which were absolutely amazing; he could see things that nobody else could see. And I think that's what I brought to Custom Media. I've got a very good eye for detail, and not just for design. I can spot things that other people can't. That's a very important part of my job: being able to see things that other people miss.
Something else that inspires me now is the people I work with. They are a really good bunch of people and they don't seem like co-workers—they're more like family.
What makes a good design?
It all depends on what you are trying to achieve. For example, the layout of the magazine is a totally different kind of design to an advertisement. People think of it all as graphic design, but it's how you try to engage with the viewer.
You design a layout to help tell a story with text and images, and you want to be able to tell that story as smoothly as possible and take the reader through your story.
With advertising, you have to engage the consumer and get a message across that this is the best possible product for them.